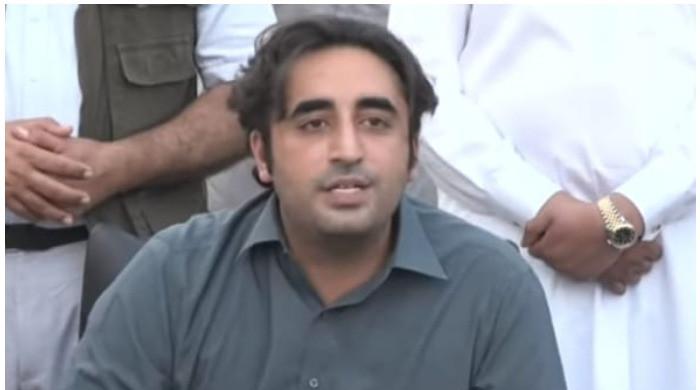 Sukkur: PPP chairman Bilawal Bhutto Zardari said he could not comment on the fact that the Pakistan Democratic Movement (PDM) rally was a "successful" event, but said that if women were allowed to attend. This rally would have been more fruitful. This, "reported Geo News. Monday.
Bilawal expressed these views while addressing a press conference in Sukkur.
Bilawal asked how the country can function without women.
He said that the politics of PDM was benefiting the government instead of harming it. He further said that Prime Minister Imran Khan had promised 10 million jobs to Pakistanis but he gave them up.
"Instead of providing jobs, the PTI-led government deprived 16,000 people of their source of income," he said. "While Bani Gala has been regularized, the poor have become homeless."
Bilawal added that the PPP has always been a target for Imran Khan as it is the biggest obstacle in the way of PTI.
Bilawal called on political parties to play their part in bringing peace and stability to Afghanistan.
Bilawal said Afghan soil should not be used against Pakistan.
Bilawal satirized Shahbaz Sharif
Earlier, the PPP chairman mocked opposition leader Shahbaz Sharif in the National Assembly and told PPP workers that if a PPP opposition leader is imprisoned, but a person holding the same post Which is from Lahore. Freely
Bilawal was referring to senior PPP leader Khurshid Shah, who was arrested by the Sukkur Chapter of the National Accountability Bureau on September 18, 2019 for amassing assets in excess of his assets. In July, the Sindh High Court rejected Shah's bail application after his arrest.
Addressing party workers in Sukkur, Bilawal said, "We warn the government to oppress others as much as it can bear itself."
"How long could you be in prison if you were?" Bilawal asked Prime Minister Imran Khan.
He also called on the opposition to support the PPP, stressing that the party was capable of "not only giving the government a hard time but also toppling it".
Bilawal said the PPP was going to form a government soon, so PPP workers should prepare themselves for the effort.
He said that PPP is trying to save Pakistan as well as save the jobs of the people.
"They [Centre] Bilawal said that he was trying to hurt the PPP supporters but he should know that this was his first and last principle.