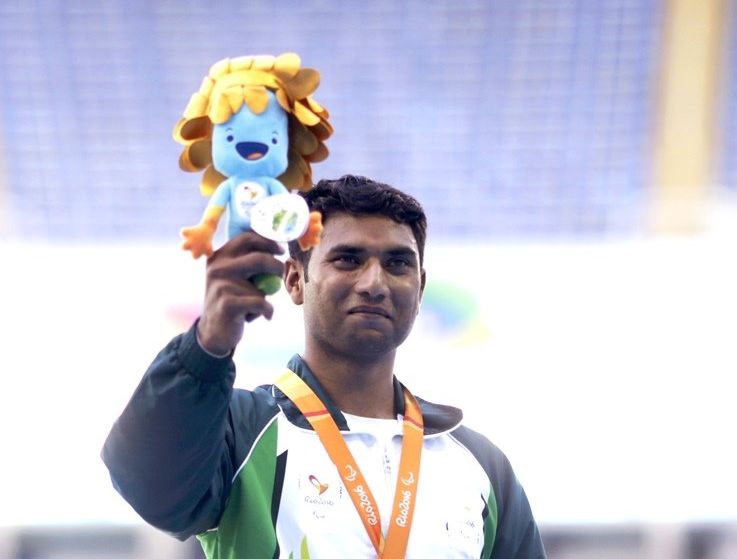 Paralympian Haider Ali lifted the country's pride by winning the first gold medal for Pakistan at the Paralympics, with a top podium finish in the discus throw event at the 2020 Tokyo Paralympics.
Haider threw 55.26 meters in his fifth attempt in which he covered the best distance.
Ukraine's Zabniak won silver with a throw of 52.43m, while Brazil's Taxira de Souza won bronze with a throw of 51.86m.
Haider had earlier won two medals in Pakistan's long jump event, a silver in Beijing and a bronze in Rio.
He told the Express Tribune before his ceremony: "The training was very disturbing. It was disturbing because the facilities where we can train were closed due to Coveid 19 epidemics, and we missed training days. Those were important days. "
"There were a lot of challenges in training, but we kept going because we had to prepare for Tokyo."
Ali feels that it was difficult to have uncertainty in training, but then another set of difficulties arose when the government of Pakistan did not help the para-athletes to travel to Tokyo.
Earlier, National Paralympic Committee (NPC) media director Huma Baig shared that the athletes' tickets had also been purchased a few days before their arrival in Tokyo. The committee did not have the backing of the government in sending the athletes to the Games, but then the Punjab government finally helped in facilitating the tickets, and most of the preparations were based on self-help.
Ali is fully aware of the fact that the government of Pakistan has not played the role it should have.
"Training was a challenge, but when it came time to participate in the completion, we had a lot of problems going to Tokyo alone. These were problems from the government," Ali said.
Uniform support, better results.
Ali has been trying to ensure that the country provides at least equal coverage and support to para-athletes as they do to the Olympians.
I appeal to the government of Pakistan that Paralympics is the biggest event in the world and it is an honor to be here and participate here. I have also won medals for the country. But the request is that the Paralympians should get equal support, which the Olympians get, so that we too can train better, compete better, give better results and make Pakistan proud. I am grateful to NPC for where I am today. Thanks to the efforts of the NPC, I am in Tokyo today.
Ali is not alone in seeking help from the people of Pakistan.
Talha Talib, Pakistan's top weightlifter who lifted the country proudly by finishing fifth in the Tokyo Olympics 67kg event, feels that Ali deserves every kind of support in his campaign in Tokyo.
Ali is a hero, he is our brother and a legend, "Talha told the Express Tribune." We also see him training, because he is from my hometown of Gujranwala. Of course we are all supporting him, but more than that we are praying for him to win.
The road ahead is new.
Ali said he had wanted to play since childhood, although his right side was weaker than his left.
"My right side is weak from birth, but sports have always been my passion. Even in my childhood I loved sports and when I found out about NPC I contacted them, and they "I am here today, and I have won medals in Rio and Beijing," Ali said.
However, unlike Beijing and Rio, Ali has turned his major event from a long jump into a discus throw. He competed in the discus throw at the 2008 Games where he finished fourth, but this is the first time he has competed in a discus throw.