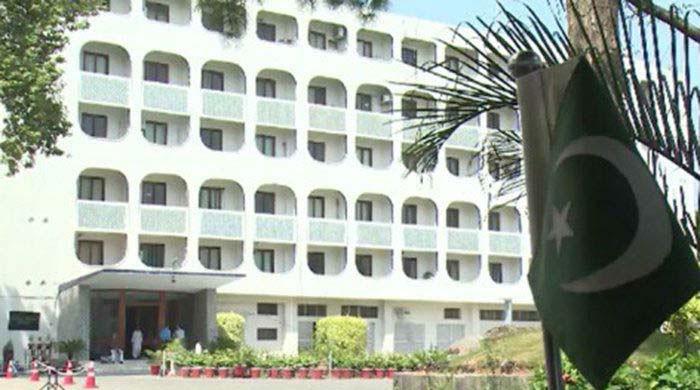 ISLAMABAD: Pakistan on Thursday strongly condemned the "barbaric act" of Indian forces snatching the bodies of Kashmiri leader Syed Ali Shah Gilani from his family.
Syed Ali Gilani was laid to rest in a tight military siege in Haiderpura, Srinagar, on Thursday morning, under close surveillance by Indian security forces. Indian authorities imposed strict restrictions on the movement of people and the entire area was cordoned off.
In a statement, Foreign Office spokesman Asim Iftikhar said that while the family was preparing for Syed Gilani's last rites, a heavy contingent of occupying forces raided his residence in Srinagar, harassed family members and arrested Syed. Gilani's body snatched
When family members told the raiding party that Syed Gilani's will would be buried in the 'Martyrs' Cemetery' in Srinagar, they were allegedly told that India would place Syed Gilani's burial place at a place of their choice. Will not take
The FO spokesman said that the Government of India was so terrified of Syed Gilani and of standing up for him that it had resorted to this inhumane act even after his death.
The statement further said that it shows the degree of indifference on the part of the occupying forces and shows that India will violate all civil and human values ​​in order to maintain its hold on IIOJK. ۔
Indian media later reported that Syed Gilani had been buried. A curfew has been imposed in the valley and all internet services have been suspended.
The Spokesperson urged the international community to take serious note of this unprecedented and dire situation in Occupied Kashmir and hold India accountable for its violations of international human rights and humanitarian law.
Syed Ali Gilani was buried at night.
Although Syed Ali Gilani and his family wanted to be buried in the Martyrs' Cemetery in Srinagar, the Indian authorities did not allow it for fear of provoking the people of Occupied Kashmir.
He was buried just a few meters from his home in Haiderpura, Srinagar.
A small number of people, mainly some close relatives, were allowed to attend the funeral prayers and see the last glimpse of the martyred leader.
The Indian military had imposed restrictions on the entire occupied valley to prevent a large gathering at Gilani's funeral.
According to a Radio Pakistan report, "Immediately after the news of Syed Ali Gilani's death spread, announcements were made from mosques around Srinagar that people should come out of their houses to pay their respects to Syed Ali Gilani."
However, the report added that Indian authorities had taken coercive measures to prevent people from leaving their homes. Several Hurriyat leaders and activists, including Mukhtar Ahmed Waza, have also been arrested by Indian authorities.
The All Parties Hurriyat Conference has strongly appealed to the Kashmiri people to come out of their homes and stage a massive protest against the tyranny of the Modi government.