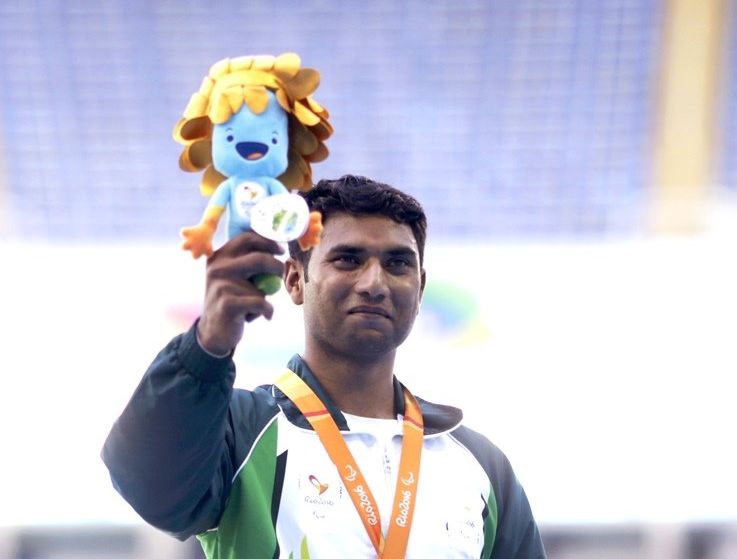 Karachi:

Haider Ali became the first Pakistani to win a gold medal at the Summer Paralympics on Friday when he ran 55.26m in Tokyo during the F37 discus throw final.
He did so in the fifth of six attempts to cover the best distance, about 3 meters longer than Ukraine's Mykola Zabnyak, who finished second with a score of 52.43 meters.
Brazilian Joe Victor Taxira de Souza Silva finished third with a throw of 51.86 meters.
"There was a lot of tension, a lot of anxiety, because it was raining, it wasn't easy at all," reflects Ali, 36.
The Gujranwala-based athlete did what no one else did – he made history for Pakistan at the 2008 Paralympics, becoming the first nation to win a medal globally.
He did it again at the Rio 2016 Games, although both medals were in the long jump. This time, however, Ali consolidated his position as a master of multiple track and field disciplines with a gold medal in the discus throw event.
"Sports training was difficult because we don't have proper training facilities, but now that I have won the medal, I feel great," Ali said. Express Tribune. After the ceremony.
"It was getting so hard to train after a place that I made my place to do it. There were restrictions on Coved 19, but we don't have the proper facilities so I had to do something in my own city. Tickets were also an issue but I am very happy.
He added that he has won silver since 2008, bronze in 2016, but it was a gold medal for which he was working hard.
Ali is now an experienced athlete, but he wanted to make sure the gold medal came to him. In Pakistan, a society that does not already have the infrastructure and awareness of people with special needs and then, above all, do not take sports seriously, he wanted to make a point.
Read on Pakistani Paralympian: Haider Ali asked for equal help.
"He trained me for five years," Ali said. "I didn't have the proper facilities, but since I qualified for it again in 2019, I wanted to come to Tokyo and win a medal."
He said that even in the morning, shortly before the event, he was trying to make sure that he improved the situation.
"It was tough, and it was tense, the weather was hard because of the rain, the field was very slippery, the discs were slipping from my hands," Ali explained.
His first two attempts were dismissed as fouls, while he ensured that he competed with a throw of 47.84 meters. Then he made a failed attempt in the fourth stage, but in his fifth attempt he won the field with 55.26 meters, it was also his personal best and was enough to win a gold medal.
Ali said the gold medal for him meant that the government should now focus on athletes playing in the Paralympics and sports and aspiring to make Pakistan proud in sports.
"I want to dedicate this medal to the people of Pakistan who prayed for me," Ali said.
He added that his family and loved ones are also proud of him.
Ali stayed in Tokyo with Anila Izzat Baig, who competed in the women's discus throw event F64 and Chef de Mission Paralympics Fatima Shami.
Fatima said the three-member contingent would return to the country on September 6.