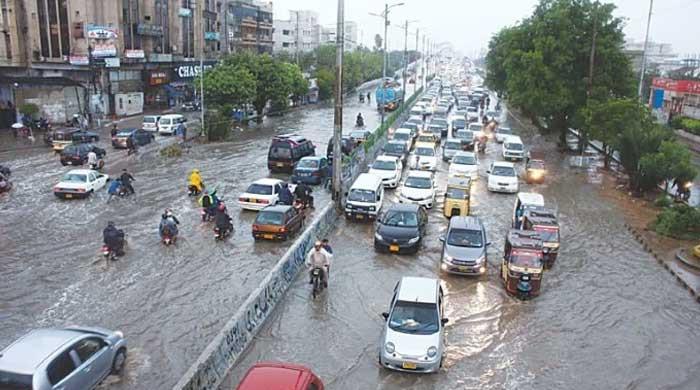 KARACHI: Roads across the city were inundated with rain water on Thursday, causing a traffic jam, shortly after the weather turned pleasant in the city due to the first rains of September. Geo News. Is informed.
A large number of areas of the city including Ayesha Manzil, Azizabad, Yasinabad, Nazimabad, North Nazimabad, Manghopir, Sher Shah, Gulshan-e-Iqbal, Surjani and Port Qasim received light to heavy rains.
Despite the pleasant change in the weather, the rains caused difficulties for the citizens as long queues of vehicles were parked on the main arteries of the city.
A major road in North Nazimabad was submerged in rainwater, mixed with sewage, submerging the entire area.
According to the Meteorological Department, the highest rainfall of 18 mm was recorded in Surjani Town, 10.6 mm in Orangi Town and 10 mm in PAF Base Masroor.
The lowest rainfall was 5.2 mm in Nazimabad.
According to the PMD, the highest temperature recorded in Karachi today was 40 degrees Celsius, which dropped to 32 degrees Celsius after the rains.
According to the latest weather forecast of PMD, heavy rain with thunderstorm is forecast in the city tonight.
Rain with thunderstorms is expected in the next 24 hours.
Earlier, the PMD had forecast rain with wind and thunder in Karachi for the next 24 hours.
According to the Meteorological Department, thundershowers are expected in Sindh and eastern Balochistan. Heavy rains are also expected in Lower Sindh and Eastern Balochistan.
However, hot and humid weather is expected in other parts of the country, Meteorological Department said.
The Meteorological Department on Wednesday warned that Karachi, Thatta, Badin and Hyderabad could be flooded due to monsoon rains in the coming days.