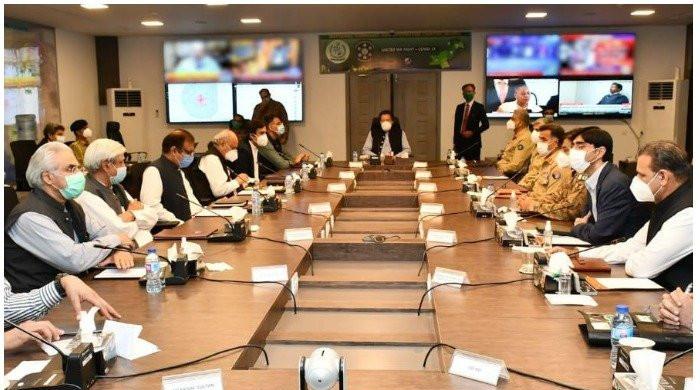 ISLAMABAD: A new set of restrictions issued by the National Command and Operations Center will be implemented in the federal capital from September 4 to 12 noon to increase the number of corona virus cases.
Federal Minister for Planning, Development, Reforms and Special Initiatives Asad Umar briefed Prime Minister Imran Khan on additional sanctions during the NCOC meeting on Friday.
Under the new restrictions, all internal and external gatherings and events in Islamabad will be banned. However, only outdoor weddings with a maximum of 300 guests are exempt from the restrictions.
In addition, interstate public transport, which has a high incidence of corona virus cases in cities, will not be able to move, while indoor gyms will remain closed.
The NCOC said the sanctions would be reviewed on September 9.
Meanwhile, Islamabad Deputy Commissioner Hamza Shafqat announced that the growing number of cases of COVID-19 has increased the pressure on hospitals, so new restrictions had to be imposed.
According to Shafqat, the increase in COVID-19 cases has increased the pressure on hospitals.
DC announced on Twitter the implementation of sanctions in Islamabad which will come into force on Saturday, September 4 and will remain in force till September 12, 2021.
Shafqat wrote on Twitter, "Due to increasing pressure on hospitals following the ban, notification is being issued from tomorrow to September 12 to control the spread of covid."
Restrictions in specific districts of Punjab, Khyber Pakhtunkhwa
Apart from Islamabad, the NCOC also reviewed the situation in selected districts of Punjab and Khyber Pakhtunkhwa and decided to impose additional sanctions on these districts from September 4 to 12.
In the federal capital, additional restrictions include banning all internal and external gatherings and celebrations except for outdoor weddings. A maximum of 300 guests are allowed for outdoor weddings.
Similarly, intercity public transport has been restricted in districts with high Corona virus positive ratios. Indoor gyms will also be closed like in Islamabad.
The districts of Punjab include Sargodha, Khushab, Mianwali, Rahim Yar Khan, Khanewal, Faisalabad, Bhakkar, Gujrat, Gujranwala, Multan, Bahawalpur, Lahore, Rawalpindi, Sialkot and Sheikhupura.
As far as KP is concerned, the selected districts include Haripur, Malakand, Mansehra, Swabi, DI Khan, Swat, Abbottabad and Peshawar.
Schools are closed in Punjab from September 6 to 11.
Due to the increase in the number of cowardly 19 cases, the Punjab government has decided to keep all schools closed from September 6 to September 11.
Punjab Education Minister Murad Rass said schools would remain closed for six days to curb the rapid spread of the virus.
It is to be noted that during the last 24 hours, the positive rate of corona virus was recorded in Punjab at 6%. Meanwhile, Lahore recorded 9% and Rawalpindi 10%.
NCOC imposes new set of COVID-19 restrictions Banning indoor and outdoor events in Islamabad
Sindh imposed additional sanctions on Karachi and Hyderabad.
In addition, the Sindh Home Department has also issued a notification stating that as per the decision of the NCOC, additional restrictions related to corona virus will be imposed in Karachi Division and Hyderabad District.
According to the notification, the NCOC has directed the concerned authorities to launch a special campaign to enforce the ban, which is mainly focused on wedding halls, marquees, restaurants and hotels.
It also outlines the procedures adopted by the NCOC for enforcing sanctions.
Under the procedure, authorities have been instructed to ensure that non-indoor wedding ceremonies are held in the above areas. However, outdoor weddings are allowed across the province, with a maximum of 300 guests.
In addition, indoor dining services are not allowed in Karachi and Hyderabad divisions, while outdoor dining services are allowed only till 10 o'clock.
The Home Department has advised that the COVID-19 protocol be strictly adhered to at weddings and dinners.
According to the notification, the authorities are requested to seal the wedding hall, marquee, restaurant or hotel and arrest the elements involved in violation of the ban.
In addition, the concerned authorities are requested to organize a vaccination drive from September 1 to 15, with extensive communication and advertisements at prominent places.
The Home Department's notification also obliges the concerned authorities to submit a daily record of implementation of the said instructions to the department, which will be sent to the NCOC.
Pakistan's COVID-19 graph shows a downward trend.
Meanwhile, Pakistan's Gravity 19 graph shows a declining trend as less than 4,000 infections have been recorded daily in the country this week.
The NCOC data showed on Friday morning that after taking 59,745 tests, the South Asian country registered another 3,787 cases of corona virus in the last 24 hours, bringing the total case load to 1,171,578. Reached
The number of active cases of corona virus has also been declining for the past three days. On Friday, there were 90,076 active cases.
The positive rate was recorded at 6.33%.
With 57 more deaths, the death toll exceeded 26,000 and is now 26,035, according to the NCOC.
The country's daily recovery is increasing day by day with new cases. With over 6,595 recoveries in the last 24 hours, Pakistan's total number of recoveries has risen to 1,055,467.
In Pakistan, an average of 3,311 new infections are being reported every day, with a 67% peak – the highest daily average reported on June 17.
The country has so far given at least 58,156,714 doses of COVID vaccine. Assuming that each person needs 2 doses, it is enough to vaccinate about 13.4% of the country's population.
During the last reported week, an average of 1,1,019,949 doses are given daily in Pakistan. At this rate, it would take another 43 days to provide enough food for a further 10. population.