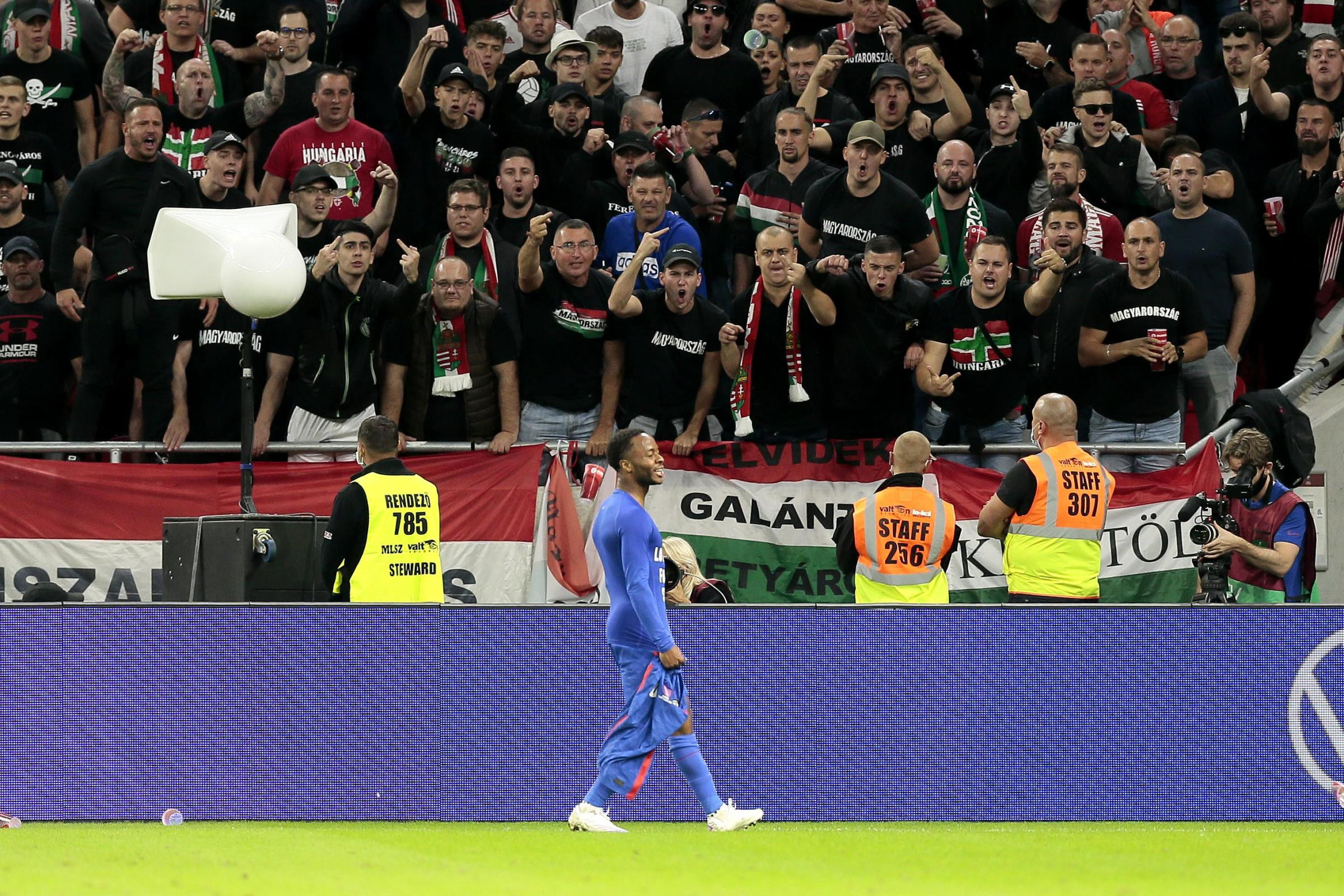 London:

FIFA on Friday launched a disciplinary inquiry into the alleged racist abuse of England players during World Cup qualifiers in Hungary, with Prime Minister Boris Johnson calling the incidents "completely unacceptable".
Rahim Sterling and unused substitute Jude Bellingham chanted slogans during Thursday's match at Budapest's Piskas Arena, which Euro 4 runners-up England won 4-0.
Manchester City forward Sterling scored the first goal in a convincing victory but the result was hidden due to the abuse of black players.
Missiles and flames were also thrown on the pitch by the mob in front of the house.
FIFA, the world governing body, issued a statement stating: "Following an analysis of match reports, FIFA has initiated disciplinary action regarding the events that took place last night in the Hungary England game.
Once again, FIFA wants to make clear that our position is strong and determined to reject any form of racism and violence, as well as discrimination or abuse.
"We have a clear zero tolerance stance against such abominable attitudes in football."
British leader Johnson wrote on Twitter condemning the abuse.
He tweeted, "I urge IFFIFAcom to take stern action against those responsible to ensure that this type of disgraceful behavior is properly eliminated from the game."
But Hungarian football leaders strongly defended the "majority" of fans, and Foreign Minister Peter Cesarto warned Johnson against the "hypocrisy" that the Euro 2020 final at Wembley was marred by commotion and crowd harassment.
This is not the first time Hungary has focused on abusing fans.
UEFA, the governing body of European football, ordered the team in July to play its next three games behind closed doors after being found guilty of discrimination during Euro 2020, with one match suspended for two years. Stay
However, the ban did not apply to the World Cup qualifier against England as it is a FIFA match.
In the Hungarian capital, England's players rallied before the kick-off after kneeling down as a sign against racism and discrimination.
England manager Gareth Southgate has had to deal with previous episodes of racist behavior with his team – Euro 2020 qualifiers in Montenegro and Bulgaria have been marred by similar incidents.
And Marcus Rashford, Jadon Sancho and Bacchio Saka have been the victims of online racist abuse since Italy lost to England in the Euro 2020 final in July.
"There seem to be some incidents and everyone knows what we stand for as a team and it's totally unacceptable."
"Everything is being reported … and we have to see what happens there.
"They (players) recognize that the world is changing. Although some people are stuck in the path of their own thinking and prejudice, they are finally going to become dinosaurs because the world is becoming modern."
But the Hungarian Football Federation defended the match in front of a large crowd of 60,000 in Budapest and vowed to take action against those who "entered the field, erupted and threw cups".
Sjijjarto said in a video statement on his Facebook page: "Everyone can see in the Euro 2020 final how the English fans treated the Italians.
"You couldn't even listen to the Italian anthem because of the muttering of the English fans. You didn't mention insults after the game, so there's no room for hypocrisy in sports or politics."