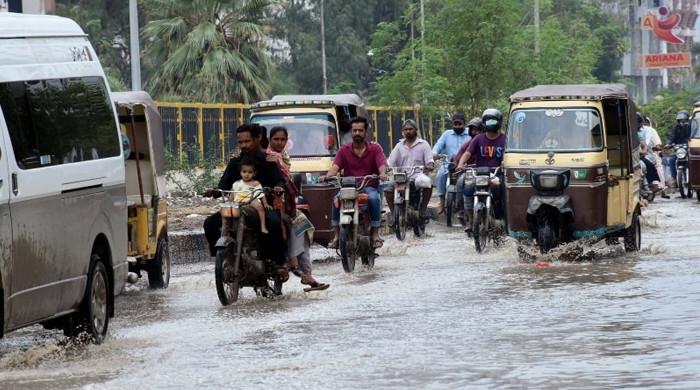 KARACHI: Another day of rain on Saturday wreaked havoc on Karachi's infrastructure as 200 of the city's 1,900 e-feeders tripped.
On Saturday, light to heavy rains lashed the south-southeast of Karachi under the influence of monsoon system in different parts of Karachi.
There were reports of power outages in Malir, North Nazimabad, Shah Faisal and Liaquatabad as heavy rains started from noon.
The Pakistan Meteorological Department has said that light rain (drizzle) is expected in the city till Monday (September 6).
According to the Meteorological Department, the maximum temperature recorded in Karachi today was 33.1 degrees Celsius.
Meanwhile, over the next two days, the city will record a maximum temperature of 34 degrees Celsius and a minimum temperature of 26 degrees Celsius.
The rain wreaks havoc.
According to the PMD, Gulshan-e-Hadid received the heaviest rainfall in the last three hours, followed by Quaid-e-Abad with 28.5 mm on Saturday.
Meanwhile, 6 mm at PAF Base Faisal, 2.2 mm at University Road, 2 mm at Old Airport, 2.4 mm at Jinnah Terminal, 11 mm at North Karachi, 2 mm at Surjani Town, PA 3.5 mm rain was recorded at F Masroor Base and 2.9 mm at Orangi Town. 11.4 mm in Nazimabad
Roads were flooded in almost every part of the city, especially in DHA Phase II, where water began to seep into homes.
In addition, the flow of traffic crawled on the main roads, mainly due to flooding in various arteries.