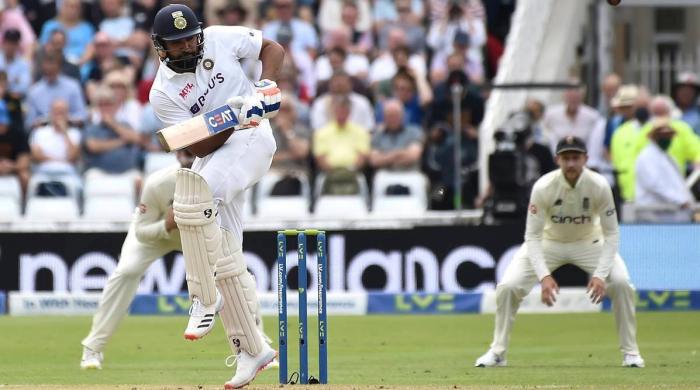 India's Rohit Sharma was happy to score a fighting century against England at the Oval on Saturday, saying he knew it was his last chance in Test cricket.
Sharma's 127 was the cornerstone of India's 270-3, 171-run lead in the second innings when a bad light ended the third day of the fourth Test.
It was the opener's eighth century in 43 Tests but the first outside India in 24 matches at this level.
The 34-year-old, a well-known limited-overs batsman, began his Test career with a stop-start affair until he moved to the top of the order in 2019.
Since then, the results have been impressive, with Sharma scoring five centuries in 16 Tests and his career as an opener with an average of 58.48 compared to his overall career of 46.87.
"Behind my mind, I knew it was the last chance for me (in Test cricket)," Sharma told reporters. "Mentally, I wanted to take up the challenge and order well … I was very prepared for that."
Sharma is in excellent form in the series against England, scoring two previous half-centuries, including 83, in India's 151-run victory in the second Test at Lord's.
"You don't just come here (England) and get sleep," Sharma said. "It's never been like that … it's a process and it takes time.
"Getting to sleep, whether abroad or at home, is always a good feeling."
His century at the Oval, which was built under the massively cloudy skies that England's fast bowlers liked, was a brilliant effort by Sharma despite being dropped twice by Rory Burns.
'Can't just play shots'
After taking 145 balls to reach the slowest half-century of his Test career, Sharma skillfully stepped up his pace and needed just 59 more balls to complete a century off 204 balls.
"You can't just come and play shots, especially when you're opening in England," Sharma said.
"The happiest thing was that I was able to play 250 balls (256 in total)," he said. "We know that when you spend time in the middle and what the bowlers do and get a sense of the situation, things get a little easier.
"I have batted in four Tests (in this series). The biggest advantage is to spend time in the middle. Runs will come."
Sharma shared 83 runs with fellow opener KL Rahul (46) and shared a crucial 153-run second-wicket partnership with Cheteshwar Pujara (61).
It was their dominance, it was a big surprise when both Sharma and Pujara fell to Oli Robinson with the second new ball in the first over.
Talking to Sky Sports, Pujara said that Rohit has batted well in the entire series, he got two fifties and it was time for him to turn those fifties into big ones and today was the day. .
Sharma tied the five-match series 1-1, adding: "I am very happy not only for myself but for the situation in the whole group.
"We are in a good position but we don't think the game is over."
Meanwhile, England assistant coach Paul Collingwood insisted: "Things are looking very good there so we should not be afraid of whatever we get.
"It looked great for batting. We've seen a rapid change in this series."