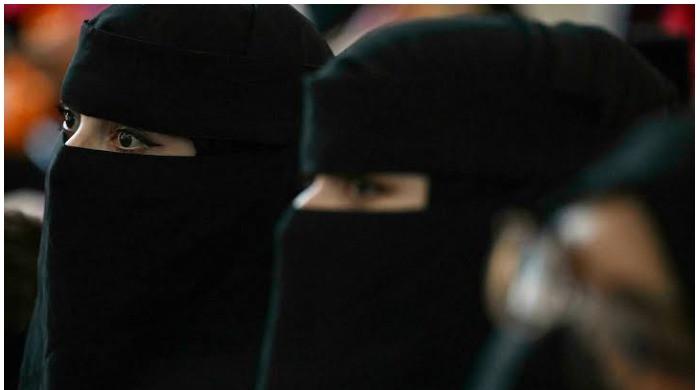 Kabul: Women studying at private Afghan universities should wear abayas and niqabs, cover most of their faces, and classes should be segregated by gender – or at least segregated by veil.
In a lengthy document released by the Taliban's education authority, he also ordered that female students be taught only by other women, but if that was not possible, "old men" of good character could be recruited.
The order applies to private colleges and universities, which have been on the rise since the fall of the first Taliban government in 2001.
During this period, girls and women were largely excluded from education because of the rules and insistence regarding same-sex classrooms that they must have a male relative with them whenever they go out of the house.
The new rules, issued over the weekend, did not require women to wear the full envelope burqa, but the niqab effectively covers most of the face, leaving only the eyes open.
In recent years, burqas and niqabs have largely disappeared from the streets of Kabul, but are more common in small towns and cities.
The order comes as private universities prepare to open on Monday.
"Universities need to recruit female students based on their facilities," the order said.
If it is not possible to hire female teachers, colleges should "try to hire older male teachers who have a good record of behavior."
Although women now have to study separately, they have to finish their lessons five minutes earlier than men to prevent them from mingling outside.
According to an order issued by the Taliban's Chief Ministry, they should wait until their male counterparts leave the building.
A university professor, speaking on condition of anonymity, said it was a difficult project in practice.
"But the fact that they are allowing girls to go to schools and universities is a big positive step," she said. AFP.
Afghanistan's new rulers have vowed to be more sociable than in their first term, which came after years of conflict – first the Soviet invasion in 1979, and then a bloody civil war.
She has promised a more "comprehensive" government that represents Afghanistan's complex ethnic make-up – although women are unlikely to be included at the top.
In the last 20 years, since the Taliban last came to power, university enrollment rates have risen dramatically, especially among women.
Before the Taliban returned to the military campaign for electricity, they entered the capital Kabul last month, women studied with men and attended seminars with male professors.
But in recent years, deadly attacks on educational institutions have caused panic.
The Taliban denied any involvement in the attacks, some of which were claimed by the local ISIS chapter.