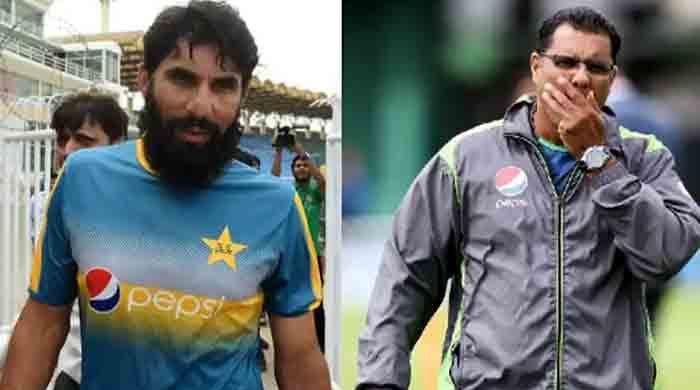 LAHORE: The Pakistan Cricket Board (PCB) on Monday announced that head coach Misbah-ul-Haq and bowling coach Waqar Younis have resigned from their respective coaching posts.
He informed the PCB of his decisions on Monday morning.
Misbah and Waqar were appointed in September 2019 and still have one year left in their contracts.
With New Zealand coming to Pakistan on September 11 for three ODIs and five T20 series and the Pakistan team to gather in Islamabad on September 8, the PCB has appointed Thaqleen Mushtaq and Abdul Razzaq as interim players for the series. The coach has been appointed, along with the team, the arrangements for the ICC Men's T20 World Cup 2021 will be appointed on time.
'Not in the right frame of mind'
Referring to his decision to step down from his national responsibility, Misbah-ul-Haq said: "After the West Indies series, the quarantine in Jamaica gave me the opportunity to consider the international cricket schedule for the last 24 months.
"Considering that I had to be away from my family for a long time and that too in a geo-safe environment, I have decided to step down," he said.
"I think time may not be ideal but I don't think I'm in the right frame for the challenges ahead and it makes sense for someone new to step up and move forward."
Waqar Younis, meanwhile, said that after talking to Misbah about his decision and future plans, his resignation was a straightforward decision because they had played a role together, as a couple. Worked collectively and now left together.
He said that working with Pakistani bowlers, including youngsters, has been the most satisfying as they have now started showing progress. Over the last 16 months, the geo-safe environment has had an impact that we have never seen in our sports days.
Wasim Khan says the PCB respects the decision.
Wasim Khan, PCB chief executive, said the PCB understood and respected Misbah's decision.
Appreciating Misbah's services, the PCB chief executive said, "Misbah has given the team an excellent performance in the last 24 months and we wish him all the best for his future endeavors."
"This is a dignified decision of dignity and we sincerely thank him for his tireless work and commitment over the past two years and wish him well in the future," he added.
Wasim Khan said that both Misbah and Waqar have given a lot to Pakistan cricket in the long run and for that they deserve a lot of respect.