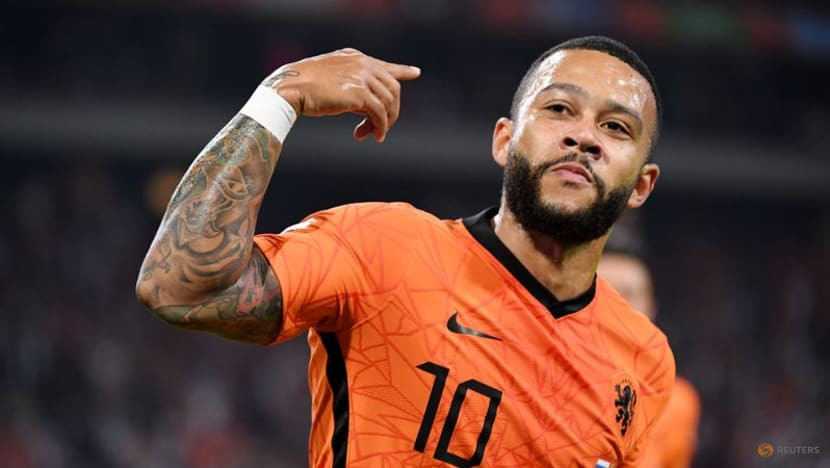 Amsterdam:

Memphis Depp scored a hat-trick as the Netherlands topped the World Cup qualifying group G with a 6-1 win over 10-man Turkey at the Amsterdam Arena on Tuesday.
It was the first international treble for the 27-year-old striker as the Dutch won for the second time in four days to reach 13 points from six matches and a second major victory over the head of the section, Turkey.
Davy Klaassen scored in the opening minute of the dream start for the home side, which Qatar lost 4-2 to Turkey in Istanbul in March at the start of the 2022 final qualifiers, before DePay added more penalties. Added three.
Goss Til scored in the fifth 10 minutes of time and Donnell Malone added a sixth in stoppage time before a satisfying goal by Sangez Unders.
Turkey slipped to third in the group after beating Gibraltar 5-1 on Tuesday as they remained at 11 points and Norway was second behind the Dutch on goal difference.
The Netherlands dropped the lead after a 4-0 victory over Montenegro, where they snatched the lead as Klaassen teamed up with Depp to score straight from the kick-off.
An aggressive Dutch approach helped Klaassen score Depe's first goal in the 17th minute when he doubled the score and Depeye converted a 38th-minute penalty to make it 3-0 at half-time. Was
Caglar Soyuncu was booked for a foul on Klaassen to concede a spot kick, which was given after a VAR check. The Turkish defender was then sent for a second precaution on a half-time stroke.
DePay completed the hat-trick with a diving header on the goal line in the 54th minute before touching Steven Burgess's cross before Tail and Malone sealed the victory with two more goals.
A blister came from the wrong pass of goalkeeper Justin Bejlou who allowed Unders to score for Turkey with the last kick of the game.
It was a triumphant night for veteran coach Louis van Gaal at the start of his third spell as coach. He had a few days to prepare the team for his draw in Norway last Wednesday but since then he has made a clear path to two strong wins and automatic qualification.