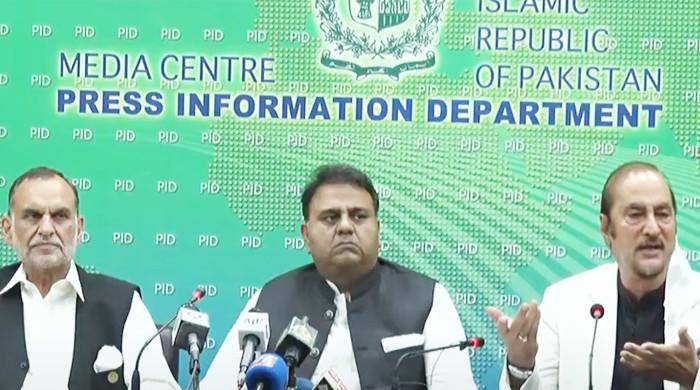 ISLAMABAD: Federal Minister for Information and Broadcasting Fawad Chaudhry on Friday said that the Election Commission of Pakistan was acting as the "mouthpiece of the opposition" and it seemed that it had become the "headquarters of the opposition parties". Geo.tv. Is informed.
Fawad's remarks came during a press briefing that he was accompanied by Railway Minister Azam Khan Swati and Advisor to the Prime Minister on Parliamentary Affairs Babar Awan in Islamabad.
Chaudhry said the PTI-led government had promised to make the ECP free, fair and transparent and a reform commission headed by Justice Nasirul Mulk had been set up for this purpose. However, the ECP is embroiled in controversy because of its "strange logic".
The minister said that the PTI government has asked the opposition to come forward and take part in the talks on electoral reforms.
"The government wanted to include technology in the electoral process. [to ensure transparency]However, the ECP seems to have become the headquarters of opposition parties.
The Minister said that all the institutions of the country including ECP should abide by the law.
Chaudhry said that in fact, it is not the Election Commission that should be considered as a whole when talking about the law, but the Chief Election Commissioner, who has become a "hobby" to act as "the mouthpiece of the opposition". ۔
"The Chief Election Commissioner – who can be contacted – naturally, he can have close contact with (PML-N) chief Nawaz Sharif and others – and he can be sympathetic, which gives us No problem – but whether it is the Election Commission or any other body, it must abide by Parliament.
He said the PML-N leaders were trying to make the legal amendments to the use of EVMs "controversial".
The minister said the chief election commissioner should "either look at his behavior or get involved in politics."
"Don't be a tool used by small political parties," Chaudhry told the Chief Election Commissioner.
He further said that whenever the opposition loses the elections, it starts crying wrongly about rigging.
"Our opposition is made up of ideologically staunch parties. All they have to do is ask for an extension of their court cases."
Talking about the inclusion of technology in the electoral process, Chaudhry said that even the Supreme Court of Pakistan ratified it to ensure transparency.