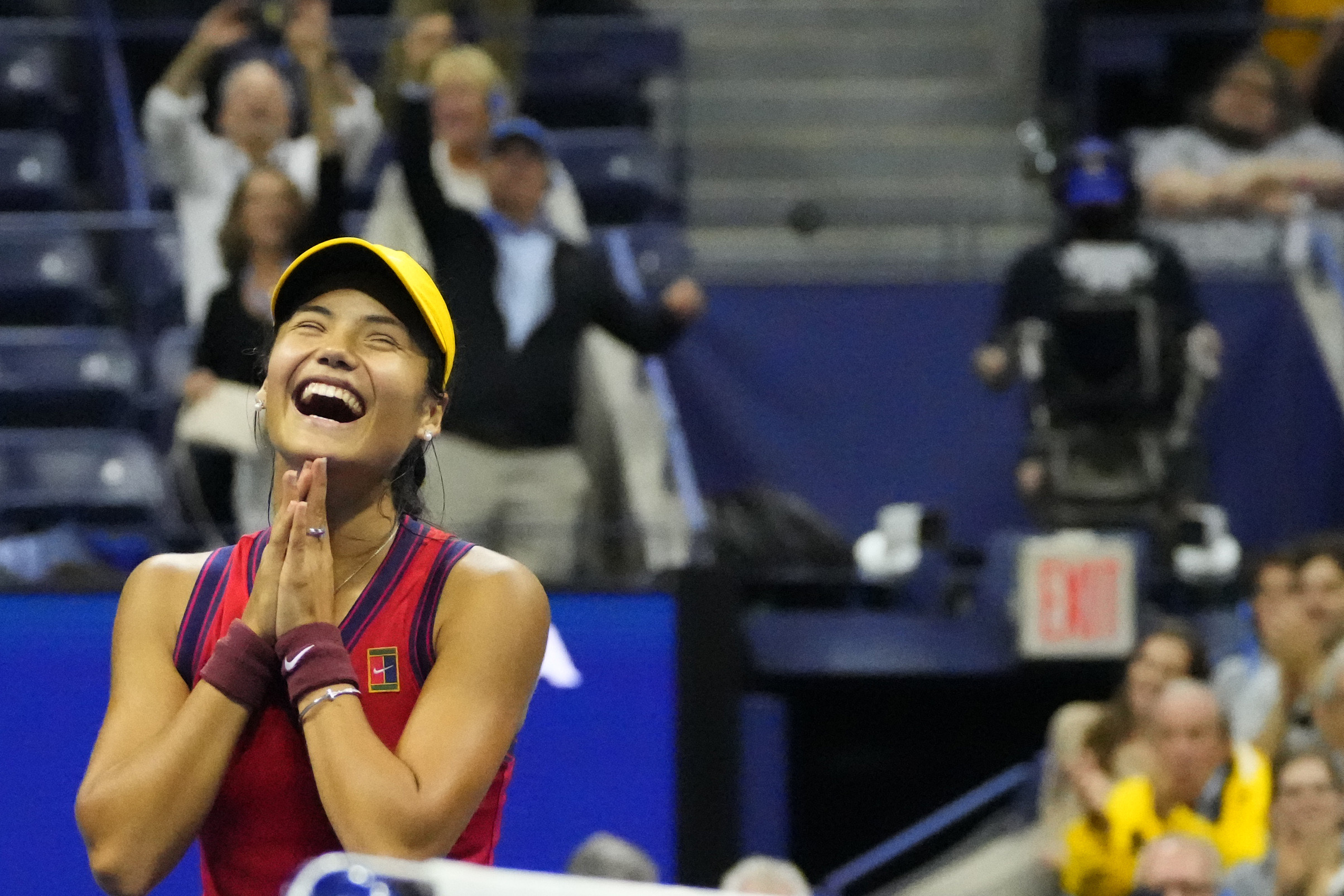 New York:

Emma Radukano, a 18-year-old British qualifier, and Leila Fernandez, a 19-year-old Canadian, completed stunning runs in their historic first Grand Slam final at the US Open on Thursday.
Radukano became the first qualifier to reach the Grand Slam final, defeating the youngest Salem finalist in 17 years, Greek 17th seed Maria Sakari 6-1, 6-4.
"I'm in the final and I really can't believe it," Radukano said.
73rd-ranked left-hander Fernandez defeated second-seeded Arena Sabalinka of Belarus 7-6 (7/3), 4-6, 6-4 to win her third opener against a top five opponent. Not seen in Slim since Serena Williams at Wimbledon in 2012.
"Now I can say that I have done a great job in achieving my dreams," Fernandez said.
In an amazing real-life epic like any fairy tale, the teens will meet on Saturday at Arthur Ashe Stadium, where one of them will claim his first Grand Slam title.
"Is there any expectation?" Radukano said. "I'm a qualifier so technically there's no pressure on me on paper."
This is the first youth slam final since Williams, 17, defeated 18-year-old Martina Hingis at the 1999 US Open, and only the eighth All-Ten Slam final in the Open round (since 1968).
"I just want to play one final," Fernandez said. "I'm going to enjoy my victory and think about it tomorrow."
Radukano is the youngest Salem finalist since Maria Sharapova, 17, won Wimbledon in 2004.
She became the second woman to drop out of the top 100 to reach the final of the US Open, when the numberless low-clusters came out of retirement and won the 2009 US Open.
"I wasn't thinking about anyone but myself today," Radukano said.
Radukano is aiming to become the first British woman to win a Grand Slam title since Virginia Wade at Wimbledon in 1977 and the first British woman to win the US Open since Wade in 1968.
Wade and British legend Tim Heinman were watching.
"Tim is such an inspiration," Radukano said. "He's been helping me, telling me to take one point at a time. You have to live in the moment and not go beyond yourself."
Fernandez, who turned 19 on Monday, removed defending champion Naomi Osaka and fifth seed Elena Svetolina before 23-year-old Sabalinka became her third top five victim.
"I had opportunities, but I didn't use them in important moments," Sabalinka said. I did not play well. She deserved this victory.
Radukano could become the first US Open champion since Serena Williams not to lose a seat in 2014.
Radukano saved three break points in his opening service game then took a 2-0 lead with a break. Sakari made a double error to give the youngster a 4-0 lead and took the first set in 36 minutes, with the help of Sakari's 17 impractical errors.
In the third game of the second set, a foul on Sakari's hand gave Radukano just one break he needed as he advanced after 84 minutes on the overhead smash.
"I've played my best tennis to date," Radukano said. "I knew I had to be very aggressive and actionable and I'm very happy with today's performance."
Fernandez, who was never deeper than the third round at the start of the six-slum, showed the mental toughness that his father, coach George, preached in a tiebreaker.
Sabalinka set up a wide open court with Fernand to give Fernandez a 3-2 lead. The teen never looked back, winning the last four points to take the first set in 53 minutes.
"It's years and years of work and tears and blood and sacrifice," Fernandez said of his mental stability.
Ash Stadium's music director played Eric Clapton's song "Leila" as he took his seat and the crowd roared.
"I don't know (how I won)," Fernandez said. "I would say it's thanks to the New York crowd. They helped me. They made me happy. He never gave up. "
Fernandez surrendered for a break in the ninth game and Sabalinka won the second set.
In the third, Fernandez lost 5-4 and Sabalinka lost the match, making back-to-back double errors from 0 to 40 and sending Fernand Long – his 52nd inadmissible error – falling two hours later and 21 minutes later.
"I don't know how I got this last place but I'm glad it was and I'm glad I'm in the final," Fernandez said.