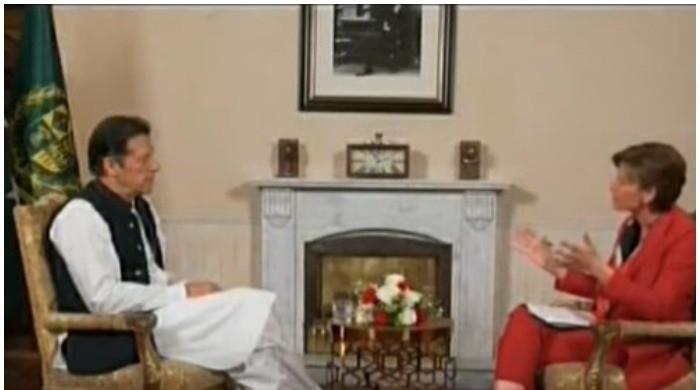 ISLAMABAD: Prime Minister Imran Khan on Wednesday spoke about the Taliban's treatment of women in Afghanistan, saying he felt "it feels very wrong to think that from outside" Someone will give Afghan women their rights. [because] Afghan women are strong.
"Give them time, and they will get their rights," Prime Minister Imran Khan said in an exclusive interview. CNNBecky Anderson at her residence in Bani Gala, Islamabad
Regarding women's equal rights with men in public and private life, Prime Minister Khan said: "Women should have the ability to fulfill their potential in life in society. [but] You cannot impose women's rights in Afghanistan from abroad. "
The Prime Minister also highlighted the future of Afghanistan, the Taliban government and Pakistan's relations with the United States.
According to a report published by Geo.tv. Reference CNNThe Prime Minister said that in order to achieve peace and stability in Afghanistan, the world should "engage with the Taliban" and "encourage" them on issues such as government and women's rights.
According to the shop, PM Khan said that Pakistan had to endure "terrible" relations with the United States which proved disastrous for Pakistan.
Under his leadership, the country is now looking for a "more practical approach to dealing with Afghanistan's new leaders," he added.
The prime minister told the outlet that Afghanistan was at a "historic juncture" and that if the Taliban government could finally form a comprehensive government with all factions, it could achieve peace in 40 years.
"But if it goes wrong and because of which we are really worried, it could lead to chaos, the Taliban government is looking to the world for help," he said.
"[The provision of aid] This group can be used to push in the right direction and legitimacy.
"No puppet government in Afghanistan has the support of the people," he said. "So instead of sitting here and thinking that we can overcome them, we should encourage them. Because Afghanistan, the current government, clearly feels that without international aid and assistance, they can solve this crisis." We can't stop. In the right direction. "
The prime minister also said that if the Taliban had taken over Afghanistan by military force, civil war would have started, adding that Pakistan was afraid of such consequences as it would be the biggest loser. ۔
"Since the Taliban have taken control of the country, the world should give them time to fulfill their promises and form a legitimate government," he said.
When asked about the decision to withdraw US and NATO forces from Afghanistan, Prime Minister Khan said that "the United States should have sought a political settlement with the Taliban from the position of power."
According to PM Khan, since Pakistan has decided to side with the United States in the war on terror, thousands of Pakistani militant groups have been killed in terrorist attacks.
"Just because we sided with the United States, we became allies of the United States after the 9/11 and Afghanistan wars. This country went through this ordeal in an instant, with 50 militant groups attacking our government." They should also know that there have been 480 drone strikes in Pakistan.
He also urged the United States to repeatedly accuse Pakistan of harboring terrorists and said: "What are these safe havens? Were there any safe havens?"
The Prime Minister said that Pakistan was unable to take military action against the Afghan Taliban because they were not attacking Pakistan.
"Pakistan had its own internal affairs, such as the Tehreek-e-Taliban Pakistan (TTP) attacks."
He said that if he had been in government at that time, he would have taken a different approach.
"I can't destroy my country to fight someone else's war," he said. "My responsibility would be on the people of my country."