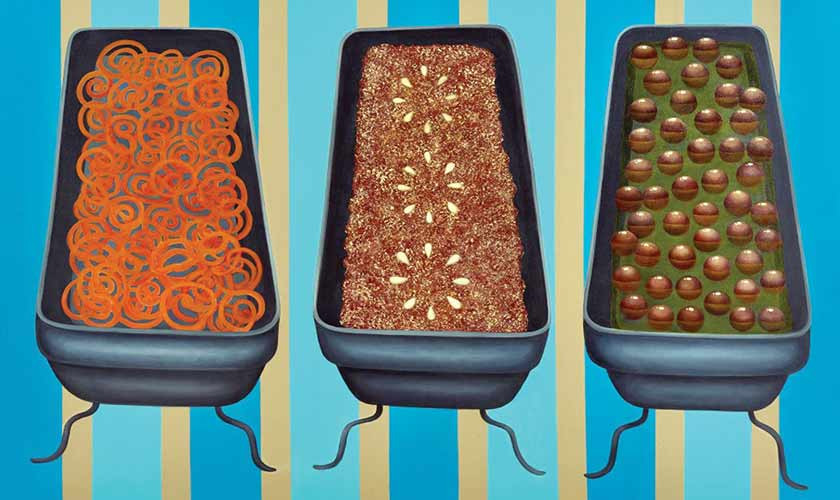 ALeaving Meena Mohsin's show, there was a strange sensation in someone's palate. Of course, his paintings are visual objects that can be obtained through the eyes, but his canvas has left out other types of flavors as well. Much of her solo show work is about food and delicious food. Tikla on charcoal, dripping in sweet syrup, patties and cake rolls with tea, cookies, samosas, nuggets, kebabs, chicken pieces, cheese sandwiches, with appropriate soft drinks.
Sweet, sour, spicy, representing all tastes but these paintings are not advertisements for sweet meat shops, snack stalls or cafes. None of these look like pictures of the dishes and products you find in bakeries and foodstuffs. Mohsin paints them realistically, but not in a photovoltaic style. That way, you show these products while you are aware of their existence. Illusioninstead of , Things. Another factor that enhances their 'image quality' is the background of each chew. Trays, plates, dishes, tables, tablecloths and formal tents are presented in simple, almost graphical tones. Flat colors, and fine lines give the impression of space and containers, but they are mere motifs.
Cooked items appear to be Meena Mohsin's main subject. One wonders why he has chosen this scene of serving delicacies. There are already some Pakistani artists who have used food in their works, especially Maryam Arsalan. Imitate Arslan's paintings and constructions, textures, surfaces and bright colors – in a sense – edible products. For Arsalan, the body of the cheesecake is easily translated into thick paint ampasto. His image invites us to eat whatever we want with our eyes and in reality.
Meena Mohsin's canvases, on the other hand, create a contradiction. Although its titles like. Please, no formalities., Netflix and Grill., Happiness Levels (Rearrange), Monsoon needs, Miscellaneous events., Tea party, Eid with benefits., And Wait for a little dessert. Referring to what is usually eaten at home or at an event, an audience is not tempted to take anything placed in front of it. Mohsin's method of painting is so complex that you can count jalebi coils, and recognize almonds tied to carrots. SweetYet, there is something between us that creates a gap between food and its taste.
There can be many reasons. Formality is one, because when food is presented with accuracy, there are backdrop patterns and geometric structures that point to mechanical aesthetics – so whatever is drawn is unrealistic. Maybe color, shade or light also contribute to this, because the food is not well lit, as you can see in some restaurants pictures of dishes (or their models). In fact, if one removes its canvases, the food is not as inviting as its bright patches and shapes. Yellow, orange, blues, green and pink are all clearer than the subject.
Cooked items appear to be Meena Mohsin's main subject. One wonders why he has chosen these "almost" illustrated menus, or scenes full of delicacies. There are already a few Pakistani artists who use food in their works, especially Maryam Arsalan..
To understand the artist's food as heavy, dull, almost plastic pieces, one needs to look at two other paintings from his show (16 Gallery T2F, in Karachi) These two canvases (from 2013 and 2019) have a human presence ۔ A young woman relaxes with a fresh delivery from the food joint (Winner Winner Chicken Dinner.(And two girls on a girl, which extends to the background of striped sheets, curtains, cushions, etc.)You might also like).
Although both paintings have a different 'central character' in terms of basic form, Mohsin's symbolic works are not fundamentally different from his food paintings. Both human figures and food are created in a passionate, often post-compassionate environment. Where you can order comfortably in your bedroom or living area. She represents a privileged section of society in her work. It is difficult for him to determine his own class affiliation because artists are not always autobiographical, they have the privilege, prestige and ability to imagine, or even observe, out of their physical configuration, and then at some distance. Comment on something long and foreign.
But let's continue speculation about Mohsin's social status. The artist studied BFA at NCA (2013) before earning an MFA from Pert Institute, New York, (2016). None of this counts as detail, his education, or his family background, because when we step into his show we are not aware of these facts, nor do we need them. Takes over the work, engages with us, and moves in a new direction – perhaps in the artist's mind. Not different from his contemporaries
In his novel, Don Rugberto's notebook., Mario Vargas Llosa has created a character who instructs his architect to design a house that is not for the people who live there, but for his collection of 4,000 books and 100 works of art. He also says that he likes nature, That is, Cows and goats but only when they are referred to as "carved, roasted, seasoned … Nobel Prizes in Peru. This is a regular occurrence in our surroundings. We constantly feed other living species and plants. I change what becomes a valuable thing.I often meet midnight or early morning delivery boys who wait outside the covered residences, and think of the occupants who make their living rooms I relax, while a poor shopkeeper is at their door. One can only grow a relationship, about an animal, a creature that is cut and cooked that can afford it.
Somehow Meena Mohsin's work is not about celebrating or enjoying delicious things. One can find the element of hatred in all this. Most of us who have seen people eat in restaurants know what a horrible sight this is for the viewer. This can be observed when guests jump into dining areas during weddings or other public events. The tongue in the cheek, Mohsin's work, appears on one side praising the food while at the same time showing a dark side.
What's more, when we look at paintings of food platters on a complex backdrop, with young women sitting on similarly busy backgrounds. So what is the difference between food and food consumers? Both are identical, evenly decorated and featured in attractive envelopes. Thus, women in Mohsin's paintings are no different from food (in many instances a prospective bride brings a trolley full of all these joys to her future in-laws). On another level, women in our society are not seen as different from food, especially when they are in public.
Mina Mohsin's work, which was created a few years ago, and may be with a different frame, still has room for some recent – embarrassing – events, ideas and commentaries. A girl to erase the distance between the girl.
---
The author is a Lahore-based art critic.