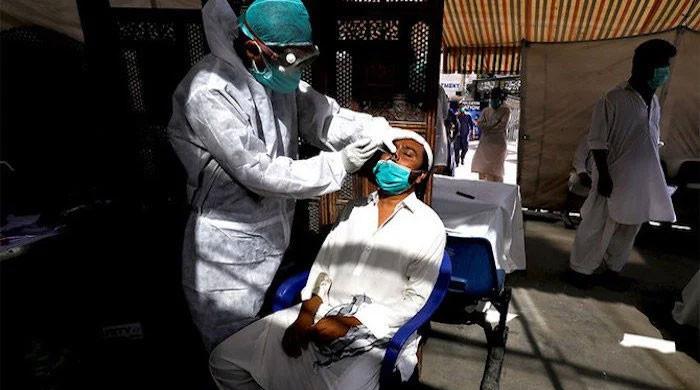 ISLAMABAD: The positive rate of corona virus in Pakistan remained below 5% for the second day in a row on Sunday, as the number of corona virus cases in the country has been steadily declining.
According to the latest figures from the National Command and Operations Center (NCOC), 2,580 new cases of corona virus have been recorded in Pakistan in the last 24 hours, bringing the total number of cases across the country to 1,223. 841.
The NCOC data shows that 55,027 tests were conducted across the country in the last 24 hours, of which 2,580 were positive.
Meanwhile, 71 more people lost their lives to the virus during the same period, bringing the country's total death toll to 27,206.
The country's Kwid 19 positive rate is now 4.6%.
In addition, the total number of active cases in Pakistan is 63,909. In the last 24 hours, at least 3,164 more people have recovered from Covid 19, bringing the total to 1,132,726.
A day earlier, the total number of active COVID-19 cases dropped to 64,564 as 2,512 more people tested positive for the virus, while 3,610 people fully recovered from the disease.
However, as of September 18, Pakistan had given at least 70,402,987 doses of the covid vaccine. Suppose each person needs 2 doses, which is enough to vaccinate 16.3% of the country's population.
During the reported last week, an average of 95,954,803 doses are given daily in Pakistan. At this rate, it will take another 46 days to provide enough food for a further 10. population.