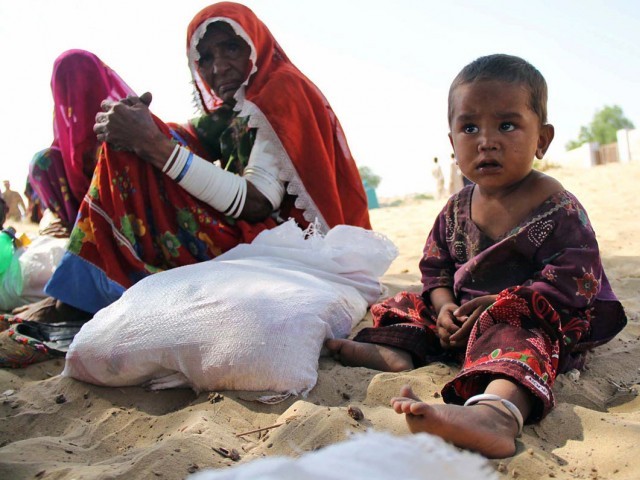 When I stepped out of the coaster with my companions and set foot on the barren land of Thar, I knew that my perception of the world was about to change. It was amazing to see the vast expanse of sand shining under the bright sun. The light gray was limited to the dynamic clothing of local women, which I could see from afar.
I was standing on the ground I had only seen in textbooks but no picture of the world could prepare you for the depressing, humid heat that struck me as soon as I got there. As we stepped into one of the villages, we were greeted by women, old and young, with veiled faces and very real smiles. We were also the center of attention of many children, some of whom were staring at us, while others laughed, smiled and even waved. Some children looked at us with suspicious faces, probably wondering what would happen to them if people came from the big city.
It was summer and I was in the middle of Tharparkar for a project. Mahenjo Sohno Thar. ('My Beautiful Thar', MST), which is using mobile phones to help empower the people of Thar.
As the epidemic affected Thar – a backward class saw further decline, preventing the necessary migration, eliminating already limited employment opportunities and access to food and water. Compromises were also made with livestock, resulting in severe food shortages that put pregnant women and children at risk. The resulting financial, emotional and physical challenges also affected the mental health of the community, with at least 143 suicides reported last year alone.
As I felt the sweat on my forehead, I also felt the weight of my privilege and I couldn't help but become very quiet. I have often heard of the experiences of my colleagues but nothing prepares you for Thar until you get there. People made life in the middle. Nursing mothers let their babies sleep, babies play on the warm sand, birds flutter in search of water, and people gather to chat about the day.
The Thari people do not have much, but they do their best. They do their bit of work, yet save the most comfortable shaded areas of their homes for their guests. Between people's resilience and harsh conditions, my own problems seemed the most trivial. Why did I complain? anything?
A local lady health worker joined us as we sat on the beds. He explained that there are two sets of clothes throughout the year and that women enjoy living in the desert while men travel to the city in search of work.
Finally a very pregnant woman Gita also came to sit with us. I was convinced that because of her condition, she was given special treatment or help with her work, but I was wrong. A three-year-old woman has to work hard every day to survive, no matter what her physical condition. Therefore, it was even more important to ensure that Thar had internet connectivity under the banner of MST, so that people could connect to affordable healthcare facilities from the comfort of their own homes.
During our team's ground health awareness sessions, the exact opposite of our lifestyle became even clearer. Since the beginning of epidemics, we have often heard some messages that are stuck in our brains to the extent that we think they are universal. When we explained the importance of washing our hands with water for 20 seconds as per WHO guidelines, the women asked us for water alternatives.
Many such examples stuck us in our tracks. Although we would get a temporary respite from the heat on the coaster that was taking us, I couldn't help but wonder how this is true for the three. There is no respite for them and no way to escape. I wish we could do more for them. Despite the arrival of social workers, local lady health workers told us that living conditions in Thar had barely improved. Plans are usually based on strict timelines, while Thar's problems are complex and have no short-term solution.
As we traveled to other villages to be interviewed about our health interventions, especially mental health, I realized that through MST we were able to do something unique and unimaginable for many people. Succeeded
No matter where they are in the world, humans are internally the same. Who would have thought that our mental health session would get a positive response from the locals? Through MST, our team has been successful in educating the Thari community about mental health and fitness. We trained our community health workers to be aware of the trauma and to approach the three women to prevent the social isolation they are facing. Women were first screened for mood disorders and other mental health conditions. Later, medical psychologists and therapists provided six to eight therapy sessions via the Internet.
More than half of the target population tested positive for depression, stress and anxiety. But what changed the equation for us was the winning attitude of these women. He was clear and weak about his situation. There was no excuse, no pretense, just a determination to take full advantage of an opportunity that would change at least one aspect of their lives.
We interviewed several women about how these sessions affected them and they were all on the moon. Like most people, these women just wanted to see and hear without fear of judgment. It was just thankful that something like this was possible in their villages. I also felt grateful, because through the program I met many beautiful people who strengthened my belief in human resilience. I learned to be open to new experiences and taught me the true value of dreaming. The desert of Thar may be barren but it is not empty and I left it as a changed woman. But is Thar changing fast enough? No, but change is coming. And We helped to sow the seed for it.