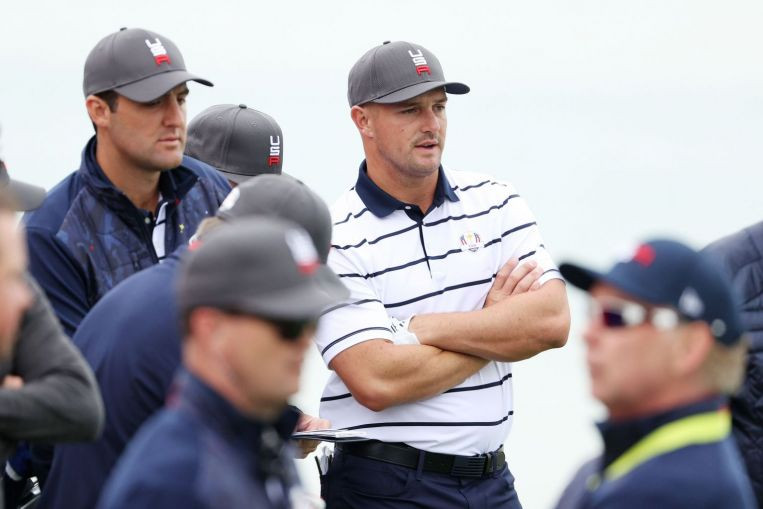 Kohler:

Bryson de Chambeau said Tuesday that he and US Ryder Cup teammate Brooks Kopka have made progress in improving their cool relationship.
Speaking to reporters in the Strait of Citi, where the Holders' two-year match against Europe begins on Friday, de Chambeo suggested that the dispute was driven by a number of external factors and that the two had resolved their differences. ۔
"We did a great job – we had some great conversations over dinner during the Tour Championship week, and again this week. I sat down and had dinner with him," said world number seven De Chambeo. Eaten, and it was fine. "
"I think it might be fun to move on, but I won't talk too much about it."
The well-documented brawl has been one of the biggest golf stories of the year, and while US captain Steve Stryker has said it's a non-issue, he admits he expects the two to come together. Does not have
He took off after Kopka's recorded interview with the golf channel after the PGA Championship in May. As de Chambeo walked behind the camera, Kopka rolled his eyes and expressed his displeasure with the player.
Although the video did not air on the golf channel, it soon surfaced on social media.
De Chambeo has become a more polarizing figure in the game of golf for a variety of reasons, including his relationship with Kopka, criticism of the slow game and his complaints this year about the quality of his driver.
Still, the long-impressed American said this week is about helping the United States reclaim the Ryder Cup, not about changing perceptions of himself as a player and as a person.
"I'm just trying to show what I can do for the game of golf," de Chambeo said. "Whether people like it or not, that's the interpretation.
"It's not about changing anyone's mind at the end of the day. It's about gathering the crowd behind us and allowing us, I guess you can say, fight us to win the cup. ۔ "