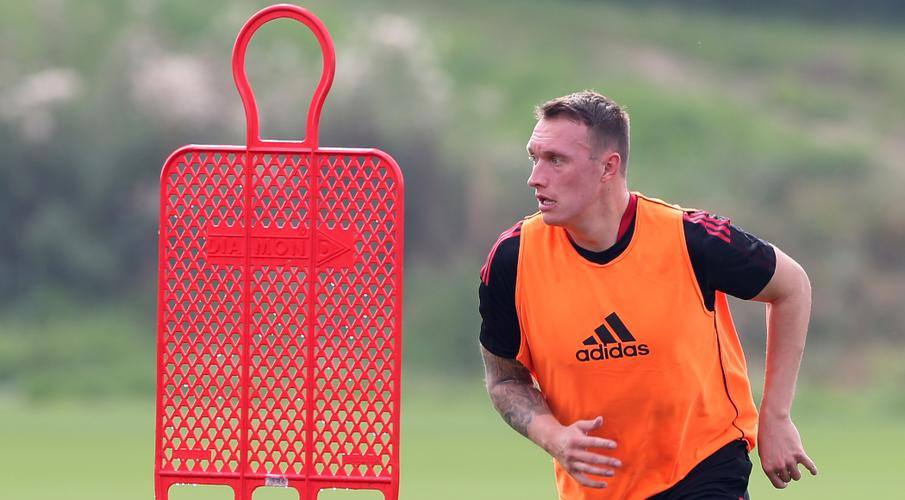 London:

Manchester United defender Phil Jones will return to the side after a 20-month injury against West Ham United in Wednesday's League Cup match.
Jones has not played for the club since winning the FA Cup against Tournament Rovers in January 2020, as he underwent surgery last summer due to a serious knee problem.
"I'm very happy for Phil," Solsker told the club's website. "He completed two 90 minutes (games) for the U-23s, played a few minutes behind closed doors and got no reaction to his knee. He's working really hard.
"He'll be in the squad. It's a good day for him and for us, and that's what he's earned.
"I know he's mentally wondering if I'll ever play football again or walk again and play with the kids in the garden."
Jones, an England international who has played more than 200 games for the club in all competitions, said he was going through "hell and back" last weekend when he was battling injuries.
Midfielder Jesse Langard, who won a dramatic 2-1 Premier League victory over West Ham last weekend, will start Wednesday's match, while defender Alex Tales will also be included as he has an ankle injury. Have returned from recovery.
Solakjir says Man Utd will return from injury in the Tales League Cup.
Manchester United defender Alex Tales has returned to training and will join West Ham United in the League Cup, while 19-year-old forward Anthony Elanga will also be included.
Telis, 28, has been sidelined since suffering an ankle injury during pre-season training in July. The Brazilian left-back was Luke Shaw's second choice last season and made 24 appearances in all competitions.
"Anthony was fantastic in the pre-season – his attitude, his enthusiasm, his straightforwardness. I like to see the players that way," he told the club's website ahead of Wednesday's game at Old Trafford.
"He was disappointed not to travel to West Ham on Sunday but he scored for the U-23s and now he is ready. He will join the squad. Good.
"We haven't lost anyone on Sunday so it's the same squad or the same pool of players. We know it's at the start of the season and some players need a few minutes to get fit so I have some I will make changes. "