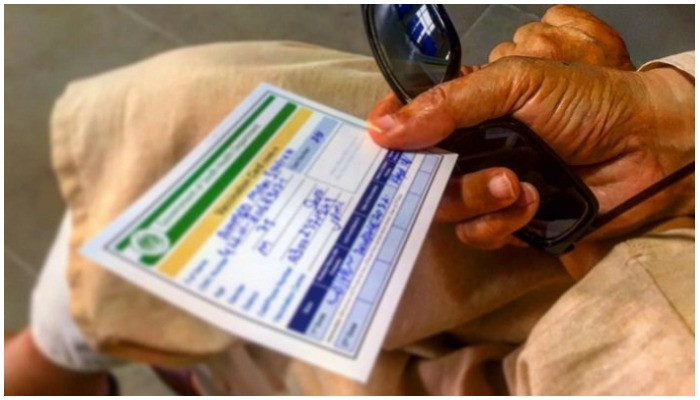 KARACHI: The Sindh Home Department has directed the competent authorities to "take keen interest" in ensuring that citizens carry vaccination cards.
According to a notification, "it was made mandatory to carry vaccination cards at various places across the province and in the order dated September 15, 2021, inspection of vaccination cards was entrusted to law enforcement agencies".
It was observed that the divisional, district administration and LEA officials were not interested in checking the vaccination cards of the citizens, and no legal action or fines were being levied for violating the orders.
Therefore, in order to ensure implementation of the orders, the competent Sindh Chief Secretary has directed the competent officers and law enforcement personnel to take keen interest in checking the vaccination cards of the persons concerned and take action against the violators. Action must be taken in accordance with the law as stated in the above order. "
It further said that these measures against violators could be reported to the Home Department and the Chief Secretary through the Deputy Secretary on a daily basis till 10 am so that their performance could be reviewed.
The notification has made the above guidelines a "top priority" for the concerned officials.
In addition, a copy of the existing order was attached to the existing directives, according to which certain restrictions on corona virus in Sindh are to be implemented from September 14 in accordance with the guidelines of the National Command and Operations Center.
The instructions and restrictions are as follows:
All commercial and business activities will be allowed to operate until 10 p.m.
Essential services, such as pharmacies, medical stores, other medical facilities, and vaccination centers, petrol pumps, CNG stations, LPG shops, ovens, and dairy shops, are exempt from limited hours and will operate 24 hours a week.
All services and activities are permitted to wear mandatory masks and carry vaccination cards.
Safe day
All commercial and business activities will observe a safe day once a week, the designated day of Karachi on Sunday and other divisions of the province on Friday.
foods
Indoor and outdoor meals will be allowed until 11:59 a.m. Indoor dining is limited to only 50% of vaccinated occupants.
Techway, drive-through and home delivery are permitted 24 hours a day and are subject to the implementation of all standard operating procedures.
Weddings and celebrations.
Indoor weddings and celebrations will be allowed with guests with a maximum of 200 vaccines, while outdoor weddings and celebrations with guests with a maximum of 400 vaccines will be allowed under the strict Covid 19 protocol.
Transportation and offices.
All public transport will be allowed to operate with a 50% occupancy level, while the railways will continue to operate with a maximum occupancy of 70%. There will be a complete ban on serving snacks to passengers on all public transport services, including domestic air travel.
Offices and institutions will be allowed 100% attendance during normal working hours.
Tourism
The Federating Unit will ensure a controlled tourism policy for vaccinated individuals only.
Other hobbies
The shrines will be allowed to reopen at the discretion of the Divisional / District Administration in consultation with the Department of Health and Endowments and the Department of Religious Affairs. Indoor gyms will be open to vaccinated people only. With 50 occupations, recreational and leisure activities will be allowed, while cinemas and sports activities will remain closed.