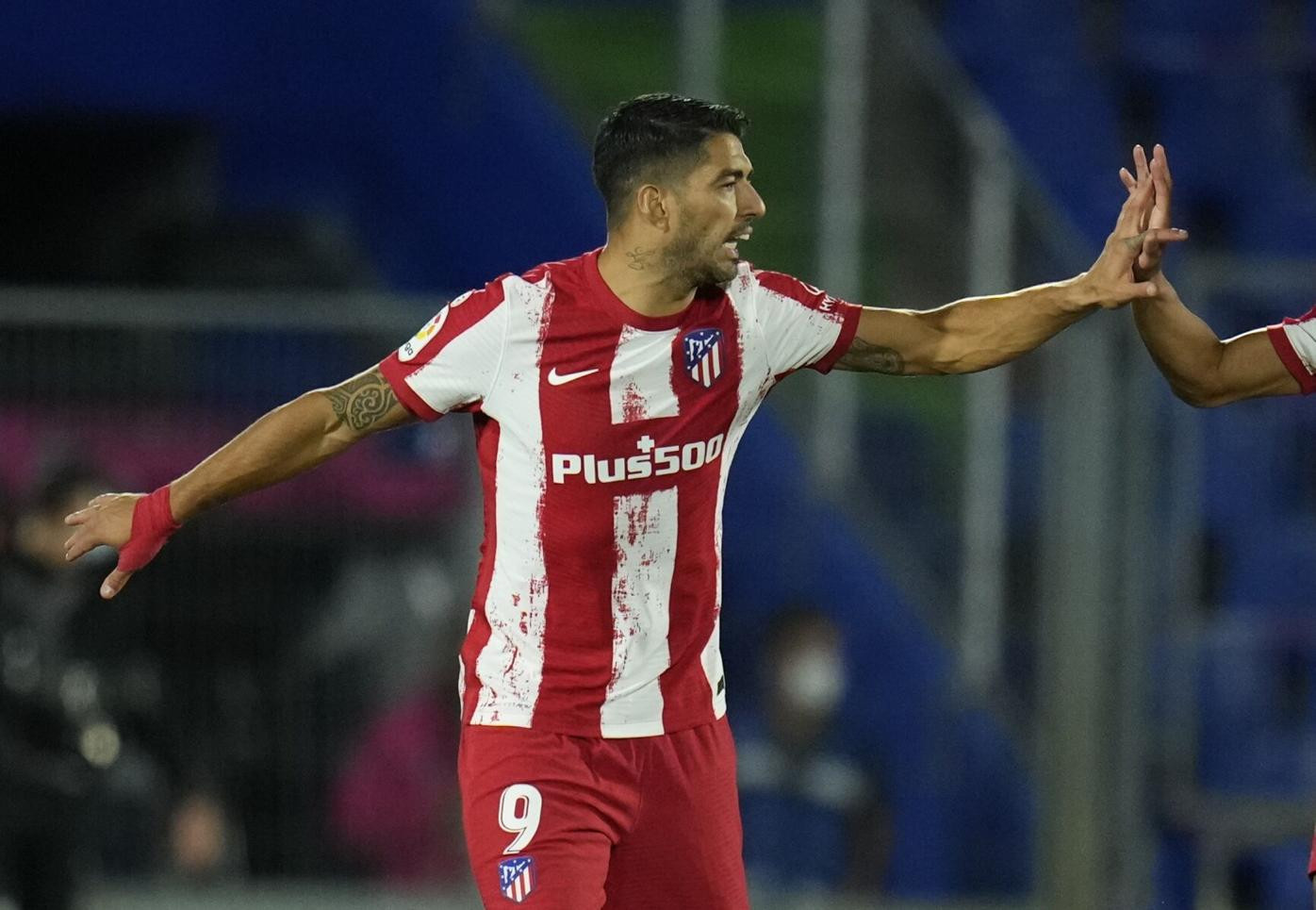 Madrid:

Atletico Madrid's Luis Suarez scored twice to give La Liga champions a 2-1 victory at Getafe on Tuesday when the hosts were limited to 10 men at the end of the second half.
The win put Atletico at the top with 14 points from six matches, one point ahead of Real Madrid with one game in hand, while Getafe are down without points.
Stephen Metrovich headed in with a header at half-time when Atletico keeper John Oblak made an unusual cross.
It was the first time that Getafe had scored in 1,583 minutes of La Liga football against Atletico, who never took a stand against his fellow neighbors in the league after taking charge of the club in December 2011. Simeon's remarkable run ended.
Getafe played the final leg of the match with 10 men when Carlos Elena was shown a straight red card in the 74th minute for hitting the back of Atletico substitute Mathews Kanha's leg.
Sending visitors got excited, and David Soria's brilliant double save saved Angel Correa and then Suarez.
But 10 men could only hold on and Atletico equalized when Suarez controlled the cross with his right foot from substitute Mario Hermoso before throwing the ball into the net with his left in the 78th minute.
Suarez winner.
Uruguay then snatched the winner in extra time, running away from their marker Mitrovic to score a goal in their last six matches in all competitions to reach a cross by Sami Versaljko, scoring the second goal of the game. ۔
"Every high-level player has to learn to be critical, but I never give up what I do, I will never be defeated by criticism," Suarez told reporters.
"Above all, I'm happy with the conditions of the game and then we turned the score line on its head.
"We still need to improve and fix some things that we are not fixing but things will get better as the season has barely begun."
Suarez's goal gave Atletico their second consecutive victory in extra time after Thomas Lamar's strike in the 98th minute at Espanyol earlier this month.
Simeone's side were disappointed 0-0 at home to Athletic Bilbao in their last game, and Joao Felix was without a record after being suspended by the Portuguese.
The Argentine coach started Suarez's attack with Antonio Griezmann, but for the third consecutive league game he beat the French forward, who has made few offers since returning to Atletico on loan from Barcelona on the transfer deadline. Of
Suarez also played a small part in the Italian game, but Uruguay, who led him to the title with 21 goals last season, showed his enduring qualities as a ruthless scorer to win.
"We had a chance to score the second goal but we didn't and when we saw the ball fall towards Suarez we all knew what was going to happen," said Getafe coach Michelle.
"I feel terrible because the team did a lot of good things but once again we have nothing left."