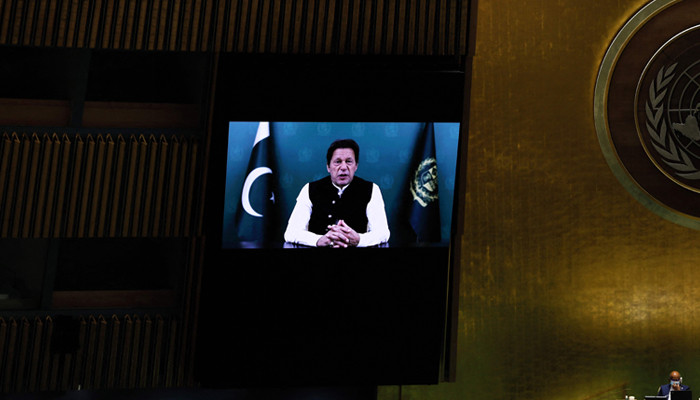 India and Pakistan have struck a bargain at the United Nations, and Prime Minister Imran Khan has accused India of "rule of terrorism" over Muslims, prompting angry New Delhi to resort to terrorism allegations in Islamabad.
Addressing the 76th session of the UN General Assembly, Prime Minister Imran Khan spoke about Prime Minister Narendra Modi's "plan to rid India of Muslims".
"The worst and most widespread form of Islamophobia now rules India," Khan said in a video address due to the precautionary measures.
"The hateful Hindutva ideology, propagated by the fascist RSS-BJP government, has started a reign of fear and violence against India's 200 million powerful Muslim community," he said.
Prime Minister Imran Khan was referring to Modi's Bharatiya Janata Party and its affiliated Rashtriya Swayamsevak Singh, a century-old Hindu modernist movement with a paramilitary component.
Under Modi, India has abolished the status of the state of Kashmir, its only Muslim-majority territory, pushed through a citizenship law that critics call discrimination and witnesses to the recurrence of religiously motivated violence. What is it.
Speaking on the day Modi was visiting the White House, Prime Minister Imran Khan, who has not yet spoken to President Joe Biden, said India's trade interests of more than a billion were "completely forgiven". With allowing human rights violations to be avoided. "
Responding to the Prime Minister's inflammatory speech, India's First Secretary in the General Assembly Sneha Dubey exercised her right to respond and accused Pakistan of harboring terrorists.
"This is a country of fireworks that is transforming itself into a firefighter," he said.
"Pakistan breeds terrorists in their backyards in the hope that they will only harm their neighbors."
"Unlike Pakistan, India is a pluralistic democracy with a large population of minorities holding the highest positions in the country," Dubey claimed.
He said that Jammu and Kashmir and Ladakh were, are and will always be an integral part of India. He emphasized that this included areas under Pakistani occupation.
Kashmir is not an integral part of India
Meanwhile, using her right to respond to the Indian envoy's allegations, Pakistani envoy Saima Saleem said that Jammu and Kashmir was "neither a so-called integral part of India nor an internal matter of India".
The Pakistani envoy said that India occupies the internationally recognized disputed territory, the final decision of which needs to be made in accordance with the democratic principles of referendum under UN Security Council resolutions.
He said that in order to divert attention from the growing international condemnation of India's widespread and human rights violations in Indian-occupied Jammu and Kashmir, New Delhi continues to make baseless allegations and utterly false and baseless. Depends on the inferiority complex.
The correspondent noted, "India's obsession with Pakistan is neither new nor surprising.
"But there is a way out of this madness because it conducts India's electoral and foreign policy under a government influenced by the ruling RSS-BJP 'Hindutva'," he said.
The correspondent said that the EU's Disinfo Lab has graphicly revealed how India has deployed such tools of fraud, deception and misinformation against Pakistan, including the United Nations.
The correspondent said that India has well documented human rights violations in Occupied Jammu and Kashmir in two reports of the High Commissioner for Human Rights.
Document of Pakistan
He said that from August 5, 2019, the High Commissioner has urged India to "open up these conditions to the people of Occupied Kashmir and fully restore their rights".
He said major human rights organizations, including Human Rights Watch and Amnesty International, had expressed similar concerns over India's human rights abuses, including in occupied Jammu and Kashmir.
"In fact, a witch hunt has been launched against those who dare to report these crimes. Only last year, Amnesty International stopped work in India, citing continued harassment at the hands of the government," he said. ۔ "
The envoy highlighted that Pakistan has recently issued a comprehensive and well-researched dossier detailing the overall, systematic and widespread human rights violations by Indian security forces in the occupied territories. Range included.
"We urge the international community to take note of the overwhelming evidence and hold India accountable for its heinous crimes," he said.
If India has nothing to hide, it should accept the UN inquiry and agree to implement the Security Council resolutions, which require a referendum so that the people of Jammu and Kashmir can exercise their right to self-determination. To be used.
India's 'four types of terrorism'
The correspondent said that India was involved in at least four different types of terrorism.
He said that first of all India was resorting to state terrorism to suppress the people of occupied Jammu and Kashmir.
He said that since 1989, Indian occupying forces have killed more than 96,000 Kashmiris, widowed about 23,000 women, used rape as a weapon of war and more than 108,000. Orphaned children.
Second, it is financing and aiding terrorist organizations such as the TTP, which has been involved in a number of cross-border terrorist attacks against Pakistani military and civilian targets.
Third, India is financing and organizing mercenary terrorist organizations against Pakistan to hamper the economic development and prosperity of the region.
"India's National Security Adviser (NSA), Mr. Ajit Doval, has publicly acknowledged the support and financing of such mercenaries," the correspondent said, adding that arrested Indian spy Kulbhushan Yadav was also in Pakistan. He had confessed to organizing such terrorism.
Fourth, India is moving towards a superior ideology that has mainstreamed Islamophobia and bigotry against minorities, especially Muslims, in its political discourse.
'Joint campaign to destroy Muslim heritage'
In today's incredibly intolerant India, 200 million strong Muslim minorities face repeated killings by 'cow guards'. A joint campaign by RSS goons to deprive Muslims of their rights through government-sponsored discriminatory citizenship laws and to destroy mosques and India's rich Muslim heritage, the representative said.
"Instead of lying patent lies about Pakistan, the Indian delegation would do well to consider their state on a deeply troubling path," he said.
"India must realize that it has consistently and desperately failed to suppress the demand for self-determination of the Kashmiris under its occupation," Saleem added.