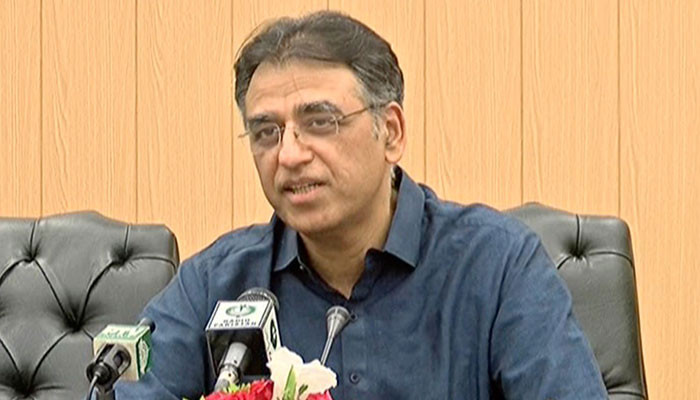 ISLAMABAD: National Command and Operations Center (NCOC) chief and Federal Minister for Planning, Development and Special Initiatives Asad Umar on Tuesday launched a nationwide campaign against the Novel Corona virus in children aged 12 years and above. Announced the start of vaccination.
Taking to Twitter, Asad Omar said the decision to vaccinate children 12 years and older was taken during the NCOC meeting.
He added that a special vaccination campaign would be launched in schools to make it easier for children to be vaccinated.
The government began vaccinating people aged 17 and over on September 1.
Here are some guidelines announced by the NCOC earlier this month:
Immunocompromised individuals between the ages of 12 and 17 will be vaccinated with the Pfizer vaccine.
Individuals will be required to provide security documents that are immunocompromised.
The normal age group for vaccination has been reduced to 17 years.
The Pfizer vaccine will be given to people under 18 years of age.
For persons under 18 years of age, the Child Registration Certificate (B Form) number will be used for registration in the National Immunization Management System.
In Pakistan, there has been a significant decline in the number of cases of Covid 19 daily.
Statistics from the National Command and Operations Center (NCOC) show that the number of cowardly 19 cases per day in Pakistan fell below 1,500 for the first time in more than two months after 1,400 new cases were reported on Tuesday morning.
The last time the country reported less than 1,525 cases on July 23 was 1,425 cases.
The number of active cases also fell to a record low of 49,968 in the last two months (July 20). Positive cases, along with positive rates, have been steadily declining over the past month, with new recoveries surpassing the new cases reported daily. Of the active cases, 4,015 patients are in critical care.
Meanwhile, another 24 people lost their lives to the infection in the last 24 hours, bringing the national death toll to 27,638. This is the fourth day in a row that less than 50 deaths have been reported in a single day in the country.
The NCOC data shows that with 2,042 recoveries in the same period, the number of recoveries is now 1,164,219.
The positive ratio across the country is 3.17%. Two days ago, Pakistan's positive rate fell below 4% for the first time in almost four months.
COVID-19 infections are declining in Pakistan, with an average of 2,059 new infections being reported every day. That's 35% of the peak – the daily average was reported on June 17.