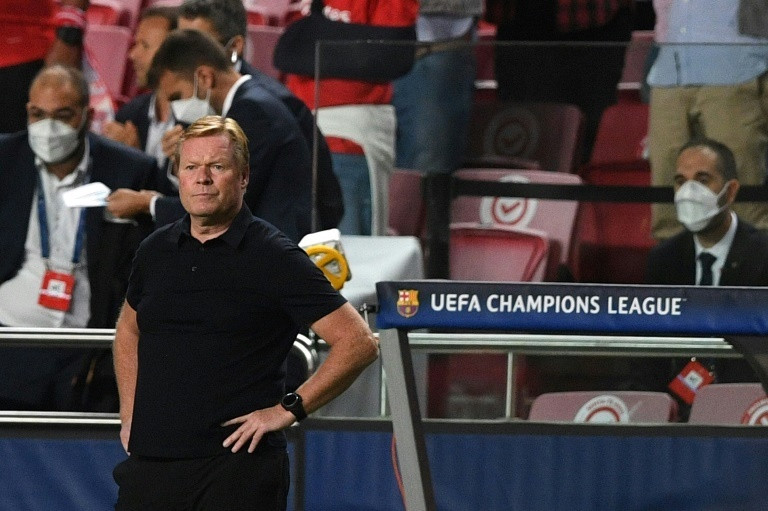 Madrid:

Ronald Koeman said three times, "I don't know."
Any credit for Sunday's encouraging victory over Leonte evaporated in Lisbon, where Barca suffered another European embarrassment that cast doubt on their hopes of reaching the knockout stage. went.
According to the Catalan Press, the club's president, Juan Laporta, will hold a meeting on Thursday morning to decide whether Cuiman should be in charge of Saturday's crunch La Liga game against Atletico Madrid.
That change is being considered even before one of the most important games of the season, and the international break coming soon after, shows how little confidence remains in Coyman.
"I think I have the support of the players," said the 58-year-old. Asked if he had the club's support, Koeman said: "I don't know, I don't know, I don't know."
When Queiman, who played for Barca in 1989-1995, was appointed in August 2020 by Liporta's predecessor Josep Maria Bartomeu, the club exclaimed "Welcome home!" And called it a "legend."
But after an encouraging first season in which Barcelona won the Copa del Rey and were finally disappointed not to win the league, Cuomo's return home became increasingly bitter.
He never enjoyed the support of Lipporta, who tried to find a replacement in the summer but failed to find a suitable successor or possibly persuaded him to join.
For a while, it was a marriage of convenience, but in recent weeks, relations have soured with demands for Queen's co-operation and efforts to reduce expectations received with growing frustration at the club.
"What I don't like is the attitude of acceptance, a certain defeat," Lipporta said last week.
Barcelona's dire financial situation will be an obstacle for any coach as a series of senior players remain and inferior players have been brought in.
Koeman has repeatedly stressed that the team is not old Barcelona and that expectations must be adjusted accordingly.
"We've changed a lot and we're missing some troops," Coeman said. "I'm always tired of repeating the same thing. We lost the players who made the difference. To me, it's clearer than water."
For a long time, many people subscribed to the Commonwealth mantra as a 1-1 draw with Paris Saint-Germain in last season's Champions League, hailed as a sign of progress, although it was in the early leg. Came after the 4-1 defeat.
But the excuses have become thinner because of the results – Barcelona have won only once in their last five games – but also performances that are increasingly creative or unrecognizable.
When Granada took control of Barcelona earlier this month, it was not as dramatic as it was in the face of defenders Gerard Pique and Ronald Arajo.
What should you do if you see a list of (players)? Common asked
Koeman will also know that despite the uproar, a squad that Pedri, Frankie de Jong, DePay, Sergio Biscuits, Peck and Marc Andre Ter Stegen should be better than below their Champions League group and sixth in La Liga. ۔
Coeman said he thought he had the support of the players, but did not defend much when asked if changing coaches would help. "We are in a critical situation," Biscuits said.
In addition, it will be Liporta and the board that will decide the fate of the Queen – and the growing case seems to be when he goes, if not.