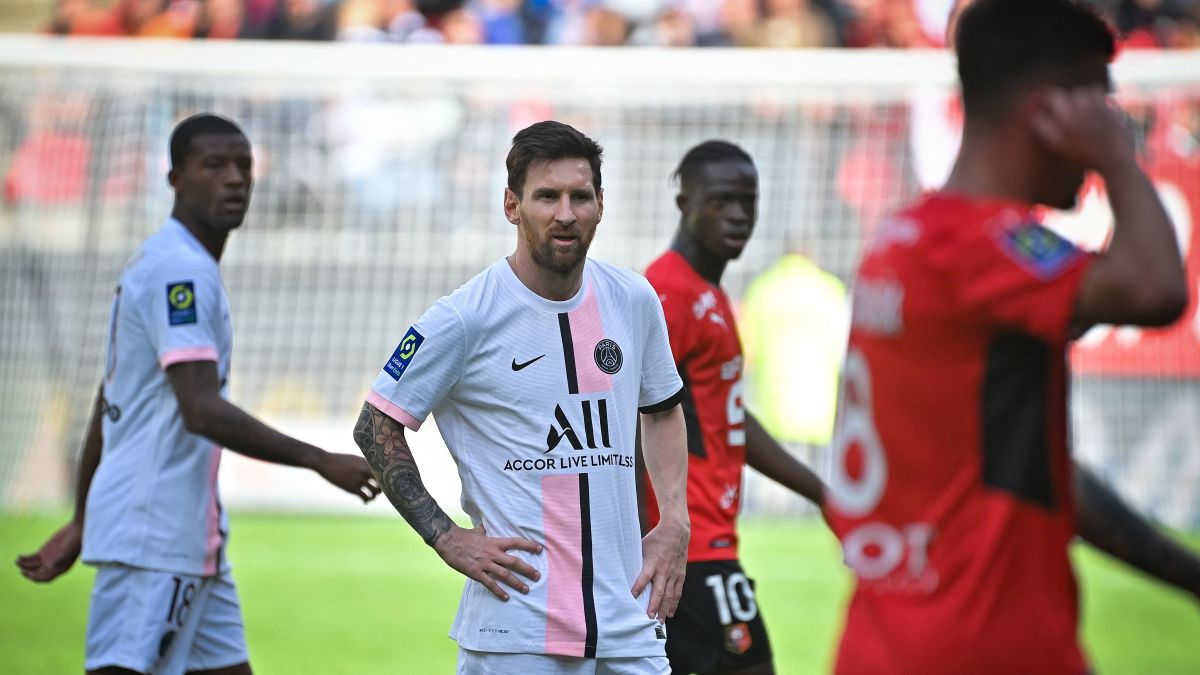 Paris:

Lionel Messi suffered his first defeat as a player at Paris Saint-Germain as his perfect start to League 1 season ended with a 2-0 defeat at the hands of Rennes, while Marseille lost the day he lost. Mourns the death of controversial former president Bernard Teppe.
Messi hit the crossbar with a free kick in the first half at Roswen Park before Gaitan LeBorde led the Reigns before the break with his sixth goal of the league.
Flavin Tate doubled the lead in less than 20 seconds after half-time, with Killian Mbabane scoring a goal offside as the Rains snatched PSG's eight-match winning streak this term. ۔
"We didn't start the match well, but then we played the best 25-30 minutes of the season," PSG coach Mauricio Pochettino said. It's a shame we didn't score.
PSG lost in the league for the first time since April, when they were beaten 1-0 at home by last season's champions Lilly.
Messi only lined up with Neymar, Mbabane and Angel Di Maria for the second match, his second league start for PSG after missing the last two League 1 games due to a knee injury.
In PSG's Champions League win over Manchester City, Gianluigi Donaruma once again approved to overtake Clever Nawas.
Trying to move forward with a team that won their first 14 games under Thomas Tachel in 2018, PSG created several chances in the middle of the first half – all of which were lost.
Neymar skyrocketed after the Brazilian was kindly broken inside the rain area, and Mbabane was the culprit for another shining miss when he stepped back after going home defense.
Messi, who scored a stunning first goal for PSG against City on Tuesday, almost missed the mark in League 1 but saw his curling free kick from 25 yards in half an hour torment the bar.
PSG paid for its missed opportunities at half-time.