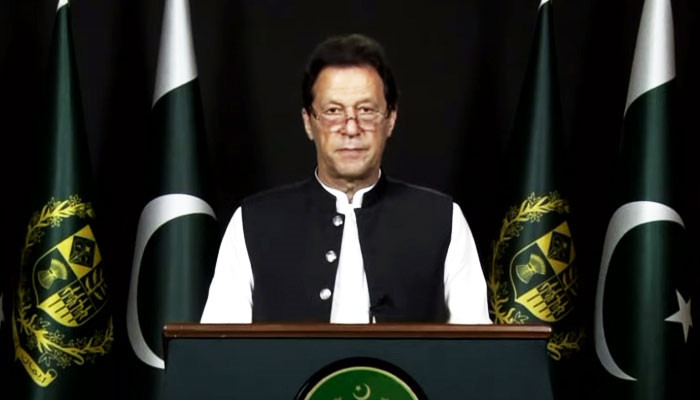 Prime Minister Imran Khan on Tuesday reiterated his concern over the illegal flow of 1 1 trillion into tax havens from developing countries and stressed the need to curb these expenditures.
The Prime Minister's remarks came during the World Leaders Summit Dialogue during the 15th Quarterly Meeting of the United Nations Conference on Trade and Development (UNCTAD) hosted by Barbados.
"According to the FACTI panel (United Nations High Level Panel on International Financial Accountability, Transparency and Integrity), ٹیکس 7 trillion stands in these tax havens and shelters," he said.
The Prime Minister further said that this looting was taking place due to the corrupt ruling class of the developing world.
He called the challenge a "major crisis" and predicted that it would "get worse" in the coming years.
Prime Minister Imran Khan said that the only way to stop this is to implement the recommendations made by the FACTI panel, and also to acknowledge that "unfortunately rich countries that do something about it can [have] Not motivated to do anything. "
The prime minister said illegal spending was "crushing" the people of the developing world, not just because money was being sent to the developed world – which could instead be spent on human development. Country, it affects the local currency which depreciates, leading to inflation and then further poverty.
He said that one of the unseen effects that the developed world will see in the days to come is the economic migrants, who are still barely a "trick".
"I urge you, Madam Secretary-General, to do everything you can to raise awareness so that this great injustice is being done to the people of the developing world."
Earlier, Prime Minister Imran Khan also spoke about the importance of vaccine equity, debt relief and climate finance as part of the global economic recovery from the devastating effects of COVID-19 epidemics.
Expressing concern over the inequality of vaccines, the Prime Minister called for more equitable distribution. Also, recalling his campaign for debt relief, the Prime Minister advocated debt relief until the epidemic was eradicated.
Furthermore, he reiterated the urgent need for rich countries to mobilize and participate in climate finance in view of the threats and existential challenges facing the Small Island Developing Countries (SIDS) and other developing countries, including Pakistan. Of
The Prime Minister was invited to meet with the Presidents of Kenya and the Secretary-General of Guyana, UNCTAD, and the heads of other UN agencies, under the theme "Building a Prosperous Progressive Path: Meeting the Moment of the Moment".
The Quadrennial Conference, hosted practically by Barbados on October 4-7, 2021, is taking place against the backdrop of unprecedented economic, public health and social impact, which has been affected and exacerbated by the COVID-19 epidemic. ۔
FACTI panel recommendations
In February, the FACTI panel released a report with 14 recommendations "to improve, redesign and revitalize global architecture, so that it can effectively promote financial integrity for sustainable development." "
1: Accountability
1A: All countries should legislate as wide as possible of legal tools to pursue cross-border financial crimes.
1B: The international community must be prepared and agree on a common international standard for the settlement of cross-border corruption cases.
1C: Businesses must be accountable to all executives, staff and board members who promote or tolerate illegal financial flows in the name of their business.
2: Legislation
International tax principles, especially tax transparency standards, should be established through an open and comprehensive legal instrument that is a global partnership. To this end, the international community must initiate a process for a UN tax convention.
3: Transparency
3A: International Money Laundering Standards require that all countries create a central registry to obtain proprietary information on all legal vehicles. Standards Encourage countries to make information public.
3B: Improve tax transparency by publishing accounting and financial information nationwide by all private multinationals.
3C: Based on existing voluntary efforts, all countries should strengthen public procurement and contract transparency, including transparency in emergency response to COVID-19.
4: FAIRNESS
4A: Taxpayers, especially multinational corporations, must pay their fair share of taxes. The UN Tax Convention should impose an effective capital gains tax. Taxes should be levied equally on digitally provided services. For this, it is necessary to tax multinational corporations on the basis of group global profits.
4B: Create better laws and stronger incentives to deal with tax evasion and tax evasion, starting with the agreement on the global minimum corporate tax.
4C: Develop an impartial and fair approach to resolving international tax disputes under the United Nations Tax Convention.
5: Fair
5A: Establish multilateral mediation procedures to assist countries in resolving issues of recovery and repatriation of international assets fairly and to strengthen compensation.
5B: Escrow accounts, managed by Regional Development Banks, should be used to manage frozen / confiscated assets unless they can be legally returned.
6: Annabillers.
6A: Governments should develop and comply with international standards / guidelines for financial, legal, accounting and other relevant professionals with input from the international community.
6B: Governments should bring world standards for professionals into the framework of appropriate national regulations and oversight.
7: Non-state actors.
7A: The international community must develop minimum standards for the protection of human rights defenders, anti-corruption lawyers, investigative journalists and whistleblowers. States should consider incorporating these standards into a legally binding international instrument.
7B: Involve civil society effectively and efficiently in international policy making forums.
8: International Cooperation
8A: End the sharing of information regarding information shared for tax purposes, so that all countries can access the information.
8b: Enable free exchange of information nationally as a standard exercise to combat all forms of illegal flow.
8C: Promote international exchange of information between law enforcement, customs and other authorities.
9: Dynamism.
9A: International organizations should provide timely advice on IFFs, so that procedures, standards and policies can be updated regularly.
9B: Governments need to dynamically adjust their national and international systems in response to new threats.
10: Capacity building
10A: Create an international agreement on the implementation of financial integrity for sustainable development to increase capacity. Expand existing capacity to deal with tax evasion, corruption, money laundering, financial crime and asset recovery.
10B: The international community should provide financial support for the creation and maintenance of public goods that can reduce the cost of implementing financial integrity commitments.
10C: Strengthen the capacity of the United Nations Office on Drugs and Crime (UNODC) to conduct anti-corruption research, in collaboration with other international organizations, with the strategic goal of capacity building and improving the effectiveness of technical assistance. With.
11: Data
11A: Establish a Center for Monitoring Taxing Rights to collect and disseminate national aggregate and detailed data on global tax and tax cooperation.
11B: Nominate an organization to collect and disseminate data on mutual legal assistance and asset recovery efforts.
11C: Nominate an organization to collect and disseminate data on the implementation of money laundering standards, including beneficial property information.
12: Implementation Review
12A: Update the UN Convention against Corruption
12B: Update UNCAC and other peer review procedures to reduce duplication and increase efficiency.
13: National Government
Governments must create strong and integrated national governance mechanisms that effectively strengthen financial integrity for sustainable development and publish national reviews of their performance.
14: World Government
14A: Establish a comprehensive and legitimate global coordination mechanism in the United Nations Economic and Social Council (ECOSOC) to address financial integrity at the military level.
14B: Build the existing structure, create a comprehensive intergovernmental body on tax matters under the auspices of the United Nations.
14C: Starting with the current FATF plenary, create the legal basis for a comprehensive intergovernmental body on money laundering.
14D: Develop a mechanism to integrate UNCAC COSP into the Coordination Body under the auspices of ECOSOC.