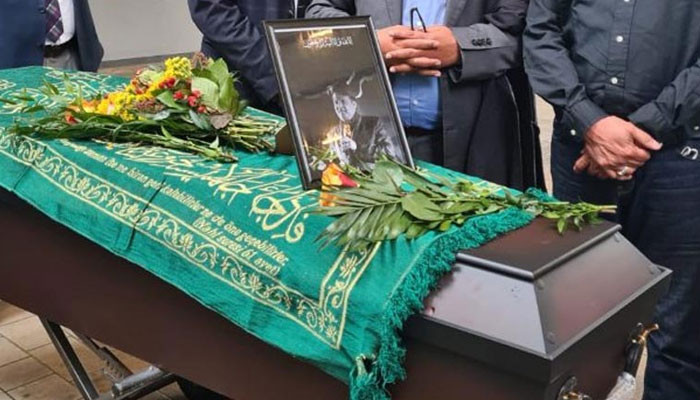 Funeral prayers will be offered today for the eternal safety of renowned comedian Omar Sharif. His body was taken to Karachi from Turkey this morning.
According to aviation sources, Turkish Airlines flight TK-708 took off from Istanbul at 12:53 in the morning. Scheduled flight landed at Karachi Airport at 5:33 am.
Omar Sharif's body was flown from Nuremberg, Germany, to Munich, before being flown to Istanbul on Turkish Air Flight TK-1634.
Omar Sharif's wife Zarin Ghazal has also returned to Pakistan on the same plane.
Family sources said his body would be transported to the morgue from the airport.
Omar Sharif's sons Jawad Omar and Fawad Omar have said that their father's funeral prayers will be offered at 3 o'clock in front of Zia-ud-Din Hospital Clifton in Omar Sharif Park. He will later be buried in the cemetery adjacent to the shrine of Hazrat Abdullah Shah Ghazi.
People, in large numbers, are seen at Omar Sharif's residence in Gulshan-e-Iqbal to offer condolences to the bereaved family.
Omar Sharif was admitted to a hospital in Nuremberg, Germany, on Wednesday after his condition deteriorated. He was taken to hospital after his air ambulance made a scheduled landing in Germany.
The comedian suffered from a number of ailments, including coronary heart disease.
Three days after his stay in Germany, he was expected to resume his trip to the United States for treatment. However, a few hours after his dialysis, he suffered a heart attack that killed him.
Omar Sharif died at the age of 66 in a German hospital. Her doctor and husband of former Pakistani actress Reema Khan, Dr. Tariq Shehab, said the comedians were feeling well during their dialysis.
However, a heart attack four hours after dialysis at Nuremberg South Hospital proved fatal.
Sharif was born on April 19, 1955 in Liaquatabad, Karachi to an Urdu-speaking family. The star was one of the greatest comedians in Asia.