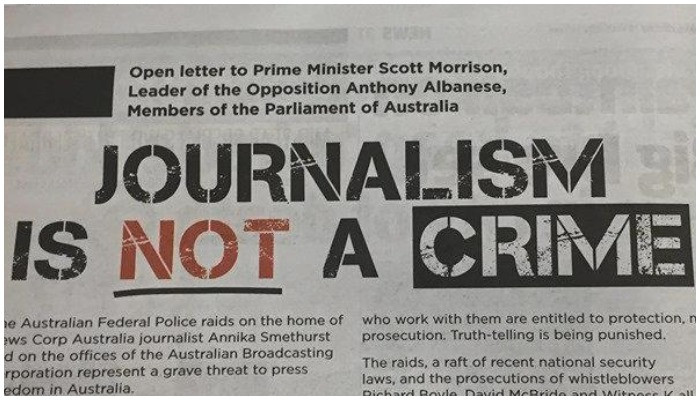 International press, publishers and journalists under the World Association of News Publishers (WAN-IFRA), International Publishers Association (IPA), and International Federation of Journalists (IFJ) have urged Pakistan to implement the proposed Pakistan Media Development. Cancel plans. Authority (PMDA)
In a statement issued Wednesday, WAN-IFRA said it would maintain "strict control over the media."
Read the statement, proposed changes under the PMDA in the current framework under the pretext of "simplifying procedures and fighting misinformation"
The WAN-IFRA claims that the PMDA will replace media regulatory bodies and oversee "movies, electronic, print and digital media" in every domain, from registration to pay, from licensing to licensing. Government advertisements as well as the procedure for civil and both criminal complaints
Furthermore, the statement said that serious concerns have been raised about the proposed PMDA – especially the lack of freedom of the media perceived by the government as half of the board members of the authority, including The chairman will be appointed by the state.
It maintained that WAN-IFRA, IPA and IJF were appalled by the clause which authorizes the proposed authority to shortlist members of media tribunals, imprisonment for up to three years and a fine of up to Rs 25 million. That's about $ 150,000 – while media tribunal decisions can only be appealed to the Supreme Court.
In addition, all three organizations have expressed serious concerns about the confidentiality behind the drafting of the PDMA law, a bill recently shared by the government and no one from the media or civil society stakeholders. Input not received.
Concerns include that although the committee that would allow media organizations to consult Federal Information Minister Fawad Chaudhry on the PMDA's recommendations was set up in mid-September, the first meeting of the committee has not yet been convened. has been.
WAN-IFRA CEO Vincent Paragne said the association urges the Pakistani government to actively co-operate with media representatives on "any such proposed law", against its broad powers and media freedom. Given the high potential for breach.
"The announcements by the government, which describe the new law as merely a strategy to prevent misinformation, only confirm the suspicion that it is a rather broad set of laws that It is designed to weaken critical speech and unnecessarily control the media. "
Meanwhile, the IPA Secretary General said that "the association stands with news publishers and journalists to urge the Pakistani authorities to withdraw their plans for the PMDA".
"The potential impact on freedom of expression and freedom of the press is clear and it is worrying to see the current health crisis being used as a cover to suppress free media."
In addition, IFJ Secretary General Anthony Bellinger said that the PMDA was threatening to further curtail media freedom in Pakistan.
"IFJ urges the Government of Pakistan to listen to the industry and take a step back, consult with the media and engage in much-needed reforms that will support a sustainable, strong and independent media in the future," said Blanger. And activate. "