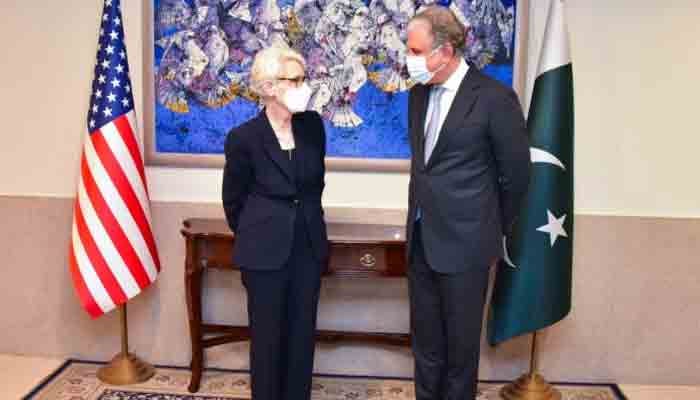 ISLAMABAD: Foreign Minister Makhdoom Shah Mehmood Qureshi on Friday said that Pakistan seeks broad-based, long-term and lasting relations with the United States for the promotion of economic cooperation and regional peace.
He expressed these views during a meeting with a US delegation led by Deputy Secretary of State Wendy Sherman at the State Department here.
He was accompanied by US Assistant Secretary of State for South and Central Asian Affairs Donald Lowe.
During the delegation-level talks, Qureshi stressed the need for regular and systematic dialogue between the two countries to promote bilateral relations and achieve common regional goals.
Issues related to bilateral relations, Afghanistan and regional peace were also discussed.
Foreign Minister Shah Mehmood Qureshi said that both the United States and Pakistan have something in common about Afghanistan. He expressed confidence that the new Afghan setup would work for peace and stability as well as for the betterment of its people.
He noted that a representative and broad-based Afghan government could be a reliable partner for the international community.
The top Pakistani diplomat highlighted that the international community should "engage positively" with Afghanistan and provide it with human and financial resources.
He said that concrete steps should be taken to build a sustainable economy in Afghanistan and address the problems facing the Afghan people.
In addition, pointing to the grave human rights violations in Occupied Jammu and Kashmir, Qureshi called for a solution to the Kashmir dispute for lasting peace and stability in South Asia.
The US envoy praised Pakistan's assistance in evacuating American and other civilians from Afghanistan and its continued efforts for peace in the region.
"We look forward to moving forward to address regional and global challenges," Sharmeen said.
He expressed his deep sorrow and grief over the human and material loss in the Balochistan earthquake.