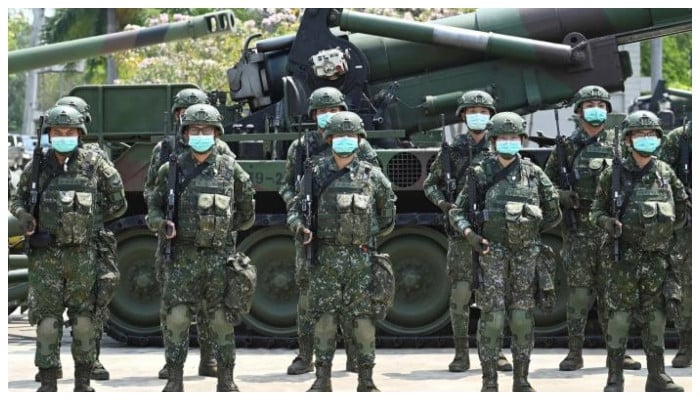 According to a US media report, US special forces have been training Taiwanese troops for almost a year now, as tensions between China and Taiwan are high.
The official largely confirmed this. The Wall Street Journal. The report says the training has been going on for at least a year, amid growing verbal threats from China against the US island ally.
Taiwan's Defense Ministry declined to comment on the report, but Pentagon spokesman John Splendor said that in general, US support for Taiwan's military is measured by its defense needs.
"Our support and defense relations with Taiwan are in line with the current threat posed by the People's Republic of China," Spiel said in a statement.
"We urge Beijing to honor its commitment to a peaceful resolution of the Strait dispute."
Asked to comment on a Wall Street Journal report on Friday, Taiwan's Premier Su Sang Chang said "there is always a good reason."
"We are doing everything possible to maintain our national sovereignty and the defense of our people, as well as regional peace," he said.
Taiwanese media reported last November, quoting the Taiwanese navy, that US troops had arrived in Taiwan to train Marines and special forces in small boats and drones.
But the reports were later denied by US and Taiwanese officials, who insisted that the two sides were only involved in bilateral military exchanges and cooperation.
The United States supplies weapons to Taiwan, including defense and fighter jet missiles, amid threats by Beijing to forcibly regain control of the island and reunite it with China.
The United States also has a vague commitment to defending Taiwan, which Beijing considers a rebellious province.
A video released last year and Taiwanese media showed U.S. troops taking part in an exercise on the island called "Balance Temper."
Chinese forces have stepped up operations in Taiwan over the past year, conducting naval exercises and flying large numbers of bombers and fighters near Taiwan's airspace.
Taiwan's defense minister said Wednesday that military tensions between the island and China are at their highest level in four decades, with about 150 Chinese warplanes – a record number – entering its air defense zone in recent days. ۔
He warned that even "slight negligence" or "miscalculation" could lead to a crisis, and that Beijing would be in a position to launch a full-scale attack in four years.
US State Department spokesman Ned Price called the Chinese activity "unstable" and "provocative."
"We urge Beijing to end its military, diplomatic and economic pressure and repression against Taiwan," he said.
When National Security Adviser Jack Sullivan asked the BBC if Washington was ready to take military action to defend Taiwan, "I can only say that we should try to stop this day from coming forever." Will. "