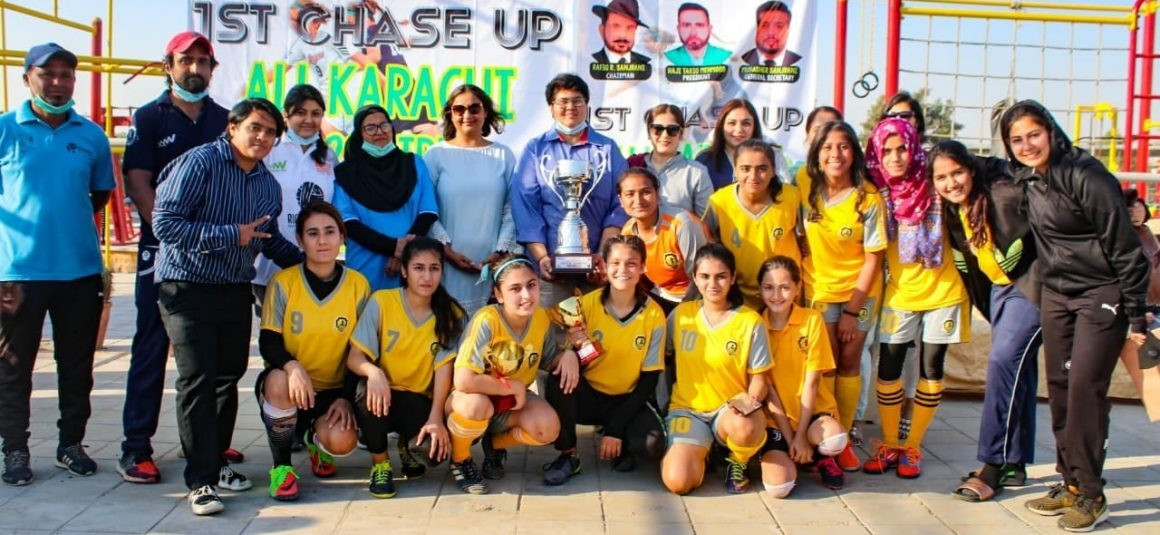 Karachi:

"She wants to play. She really misses the time she spent in China. She wants to play football, she wants to study, but she can't do that." One of the elder brothers, Babumal, 13-year-old Devi Kumari, expressed her frustration, partly wishing to keep the goddess at home and partly more resources.
The first time I met the goddess, she was worth seeing. Dressed in a bright orange uniform and adorned with red lipstick, she was 11 years old at the time, her hair tied in a ponytail, ready to handle the world. However, the world works differently for people who come from desert areas like Tharparkar and who live in cities and have supportive families who let them play.
Devi was a star talent in December 2018 when Tharparkar watched her first All Girls Football Tournament. It was organized by the Thar Foundation in association with the Dia Football Club for girls in schools. She had been playing football for several months and was playing for the Tharparkar Terminators in the tournament.
The Diya FC soon took him and his teammate Jumna Bai to the camp and the two made their first trip outside Tharparkar. The young people were happy and so were their families. At least Babumal was expecting big changes, something that could give him a job, but the Gothia Cup proved to be the last time in 2019 when Devi played football properly.
"I stopped," Babumal told the Express Tribune. "There are difficulties against us. I know that Devi wants to play football, she likes it and she can't stop thinking about her time in China. She still remembers it. However, I Can't let her go. There's also a community part because she's growing up and we have to keep our daughters at home. We enrolled her in a school in our village a while ago, but I stopped her because It didn't seem to change much after the 2019 tournament.
"I am unemployed, my father is also unemployed, we have a family of 12 people, so now you tell me, what should we do, who should we trust? Devi now plays football at home, she also goes to school , Maybe even a test, but we kept it home after 2019.
Babumal spoke on behalf of Devi as she does not understand much Urdu or English, but she loves football and wants another chance to play her favorite sport.
Babumal says he wants better opportunities for his family and although Devi has gone to China and loves football, given her current situation, he may not allow her to play.
Compared to Devi, another 17-year-old player, Ashmanin Mohammad Amin, feels that girls need to keep themselves active in some way, and that families need to help them. While living in Karachi, Ashmonin started playing football at school in 2015-16. One of his star junior players was Shumaila Gulab Hussain who was his friend, who encouraged him to take football seriously.
She went on to play her first international tour, a tournament, in Norway since the beginning of her football career four years ago. He now has a coaching license through the Pakistan Football Federation (PFF).
"Football is my passion and I want to make my hobby my career, I also want to go into software engineering," she says, but her message is that girls should focus on what they want.
"It's important that we don't give up, we understand what we want in life and focus on achieving it."
She also feels that Pakistani society needs to change. "Pakistan is a masculine country, but we need equal rights and not just the people around the girls to stop them from playing," she said. It's hard to be a girl and an athlete in our country, "said Lionel Messi's fan Ashmonen.
Meanwhile, her teammate Zaneera Shah, 16, believes that Pakistan needs a safe environment and that even if the situation looks bleak, girls and women footballers should not be deterred. "If we move forward, we will present opportunities. The key is not to give up. My family was supportive, but this is the atmosphere. Even if we play behind the scenes, people have a problem with it. Will face
Society plays a huge role in deciding whether a girl has a chance at a better life, which is equivalent to giving her basic rights to education, medicine, or playing a sport, in addition to equal opportunities. Sadia Sheikh, founder and coach of Dia FC, believes that it is important for people to change their mindset.
Sheikh said that no nation can develop without girls and women. "In our culture and society, they want women to take a certain path, to be in stereotypes, and it becomes a danger if a girl tries to be different.
This is a time of change for Pakistan and its people. Women need to unite in all walks of life, bring about policy changes, bring about cultural changes, because daughters are so important.
Sheikh also highlighted the need to spread awareness through child marriages and sports in Sindh. She feels that with sports, many girls can have a better life.