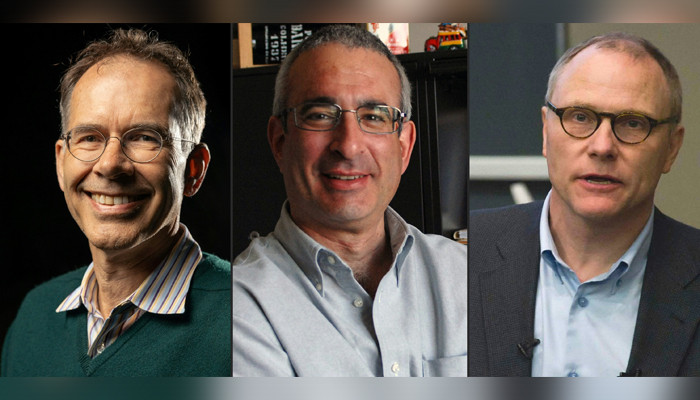 STOCKHOLM: Three US-based educators on Monday won the Nobel Economics Prize for research on the labor market using "natural experiments", or observational studies, which have revolutionized experimental research in the field.
Canadian-American David Card, Israeli-American Joshua Ingersoll and Dutch-American Guido Ambence were rewarded for providing "new insights into the labor market" and for showing "what conclusions can be drawn from natural experiments about cause and effect." divided. Said in a statement.
The Economics Prize won a majority of men in the 2021 Nobel season, with a total of 12 men winning the prize and only one woman.
The card won half the prize of 10 million kroner ($ 1.1 million, one million euros) for work focused on the impact of the labor market on minimum wages, immigration and education.
The Canadian-born professor at the University of California, Berkeley, nodded.
"I don't think I'm very likely," he told the Nobel Foundation.
In natural experiments, researchers study the results of chance events or policy changes, unlike other events where scientists have control over their subjects.
Card studies from the early 1990s, where it examined the effects of a minimum wage increase in New Jersey, showed, for example, that a minimum wage increase does not necessarily create fewer jobs.
Focusing on fast food workers, the card used East Pennsylvania, which is similar to the labor market, as a control group.
Card also used other natural experiments to study the effects of immigration and education – such as the arrival of 125,000 Cubans in the United States in 1980.
"We now know that the income of people born in a country can benefit from new immigration, while those who have migrated earlier are at risk of being negatively affected. The success of the labor market. It was thought of before, "said the Nobel Committee.
However, natural experiment data is difficult to interpret.
For their work in solving this methodological problem, the other half of the prize was jointly awarded to 61-year-old, a professor at the Massachusetts Institute of Technology (MIT) and a 58-year-old professor at Stanford.
In research conducted in the mid-1990s, he showed "how definitive conclusions can be drawn about cause and effect" and specifically what conclusions can be drawn.
Revolutionary work.
The framework he developed has been widely adopted by researchers who work with observational data.
"By clarifying the assumptions necessary to establish a working relationship, their framework has enhanced the transparency of experimental research – and thus its credibility," the committee said.
"I was shocked to receive a telephone call," Ambence told reporters in a phone interview after the announcement.
He added: "Josh Ingersoll was actually the best man in my marriage so he's a good friend both professionally and personally, and I'm glad to share the prize with him and David."
The Prime Minister of the Netherlands Mark Rutte congratulated the economist born in Andover.
"A global success with a Dutch touch. Congratulations," Root said in a tweet.
Eva Mork, a member of the Nobel Committee, told reporters that the three winners had "revolutionized experimental work in economics. They have shown that it is indeed possible to answer important questions, even when conducting random experiments." Don't be. "
'False Noble'
Last year, the award was given to American economists Paul Milgram and Robert Wilson for working on auction ideas as well as inventing new auction formats.
The Economics Prize is the only Nobel Prize to be awarded out of the original five prizes awarded to Alfred Nobel, who died in 1896.
Instead, it was built in 1968 with a donation from the Swedish Central Bank, and opponents have called it a "false noble."
As of this year, the Economics Prize has generally been dominated by men. It has only been given to two women since it was first awakened in 1969: Eleanor Osterm in 2009 and Easter Dufflo in 2019.
The only woman to win the Nobel Prize this year is Maria Rissa, a Philippine investigative journalist who promoted freedom of expression because of her work with Russia's Dmitry Maratov, a peace prize, while press freedom is under increasing threat. ۔