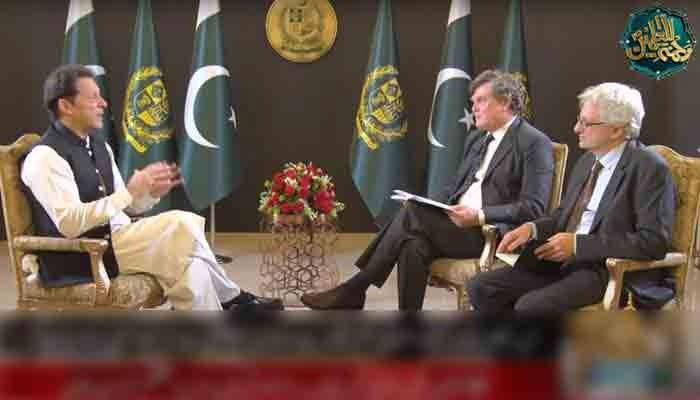 ISLAMABAD: Stressing the need for the world to engage with the new government in Kabul, Prime Minister Imran Khan on Monday urged the international community to refrain from removing the Taliban-led government in Afghanistan.
In an interview with Middle East Eye, an online news outlet in London, Prime Minister Imran Khan warned that such an attitude of the world would send the country back in a few decades.
"Things are still happening in Afghanistan, people like us still don't know where it will go," he said.
The Prime Minister said that Afghanistan is a trade corridor connecting Pakistan with Central Asian countries. "And so, this is a very important country," he said.
He added that this should not be a "US vs. China" camp.
Prime Minister Imran Khan said that there are people in the Taliban leadership who have made many sacrifices in blood. "These people will now want to be part of the government," he said.
"And yet the government. [in Afghanistan] Seeking international acceptance. "It speaks to human rights and does not want its territory to be used for terrorism," he explained.
Prime Minister Imran Khan said that this is an important point of Afghanistan and called on the world to connect with the country.
'Still talking to Biden'
Responding to a question about US President Joe Biden, the prime minister said he could not yet speak to the world's most powerful man.
"Well, you know, it depends. It's a superpower."
When the interviewer told him that he found it "absolutely surprising" that the two heads of state had not yet spoken, Prime Minister Khan said:
"Well, our security chiefs have spoken. Our Secretary of State is in contact with the US Secretary of State. But no, we have not spoken, but we are in contact," he added.
Speaking about his visit to the United States in 2008, the prime minister added that he had spoken to Biden, John Kerry and Harry Reid – then all senators – warning them that they were creating a problem for themselves in Afghanistan. ۔
Khan said he had warned the three that there was no military solution to the Afghan conflict, but added that he had not listened to them.
He said that a few years later, the then Pakistan Army Chief General Ashfaq Parvez Kayani gave the same message to US President Barack Obama.
"But unfortunately they were led by their generals. And you know what the generals always say: give us more troops and more time."
Peaceful transfer of power in Afghanistan
When asked about the Taliban's takeover of Afghanistan, the cricketer-turned-politician said Islamabad was "relieved" because it expected bloodshed when the Taliban were about to seize the capital a few months ago. ۔
"We were relieved because we expected bloodshed but what happened was a peaceful transfer of power," he noted.
The prime minister said the Afghan army, numbering about 300,000, had surrendered without fighting the Taliban. "So clearly we didn't ask them to surrender."
When asked if the Taliban had formed a comprehensive government in the country, Khan acknowledged that it was not one. However, he said the current Afghan government is an interim government according to the Taliban itself.
He said Pakistan was working with regional countries, Tajikistan and Uzbekistan, which have relatively large populations, to ensure that the Taliban agreed to more diverse representation in their government.
Conversation with TTP
The prime minister also spoke about his government's negotiations with the Tehreek-e-Taliban Pakistan (TTP), a banned organization that has claimed responsibility for several killings in Pakistan over the past two years.
"Islamabad is trying to talk to elements within the TTP who can be reconciled because it is from a position of power," he said.
"I have always believed that all riots end up at the negotiating table like the IRA. [Irish Republican Army] For example, "he explained.
"Now we have to talk to those with whom we can make peace. [persuade to] Give up your weapons and live like ordinary citizens.
Talking about Pakistan's sacrifices in the war on terror, he said that Pakistan has lost 80,000 citizens and its economy has been destroyed.
The Prime Minister said that the Taliban had assured Islamabad that the TTP would not carry out attacks against Pakistan. He accused India during Ashraf Ghani's government of carrying out terrorism in Pakistan through Afghanistan.
US drone strikes in Pakistan
Prime Minister Imran Khan, a longtime critic of US drone strikes in Pakistan and other countries, has criticized Washington's strategy of combating terrorism through drone strikes.
"This is the most insane way to fight terrorism. Drone strikes on a mud hut in a village and expecting no casualties," he said. "
Asked if Pakistan would allow the US to invade Afghanistan targeting ISIS, the prime minister said: "They don't need a base here because we don't need to be part of any conflict again. "