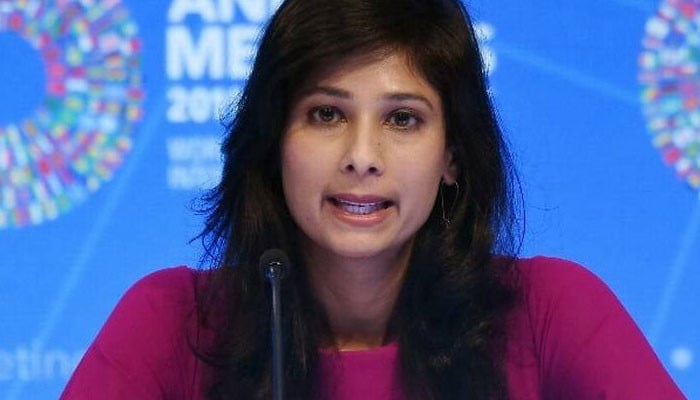 WASHINGTON: Rising energy prices are putting a strain on homes, but the recent rise is unlikely to exacerbate the oil crisis of the 1970s and should be reversed early next year.
Gopinath said in an interview that energy prices fell during a shutdown last year to control the Kovid 19 epidemic, but 2021 has seen a sharp rise in demand as the global economy recovers.
In the energy market, a long, cold winter and then especially hot summers led to high demand and depleted stocks, especially in Europe, leading to gas reserves.
"This revival is truly unique," he said at the annual meetings of the International Monetary Fund and the World Bank.
The spread of the Delta version of the Cove 19 has prevented many other supplies from being restored so quickly that workers are reluctant to return to their jobs and block supply chains.
He said labor shortages in countries such as Germany, the United States and Japan were "under pressure from prices".
"We are in a difficult situation where we have seen prices rise so fast," he said, "and the key question is whether it will continue."
– Worst situation? –
While energy prices will be "high" for the next two months, "we expect them to return by the end of the first quarter of next year and in the second quarter."
"Once we get through the winter months, we're in a better place."
Oil prices have risen in recent weeks, hitting multi-year highs on Monday, with the benchmark WTI crude rising above 80 80 a barrel for the first time since October 2014 and 30 percent since August, which The major stock markets were shaken.
Rising energy prices have raised fears that aggregate inflation could rise further and hamper the global economic recovery.
Gopinath warned that the weather would play a factor, as severe winters could lead to wider power outages "which will have a huge impact on the world."
He said the worst outcome would be "a severe winter in the northern hemisphere," which would increase energy demand, with producers, including OPEC +, failing to respond to rising production, which That headlines can lead to inflation.
In February 2021, severe weather caused by polar temperatures and blizzards increased power consumption in South America.
Texas, with a population of about 29 million, was unable to meet the demand for the blast, and the blackout affected millions of homes.
However, Gopinath does not anticipate the crisis of the 1970s as the world relies less on energy for the size of its economy.
"Gas prices will rise sharply, for example, with a kind of stagnation," he said, referring to the economic crisis of the 1970s.
The latest IMF forecast calls for a return to pre-inflation epidemic levels by mid-2022, but warns of "high uncertainty" and reverse risks in the United States.