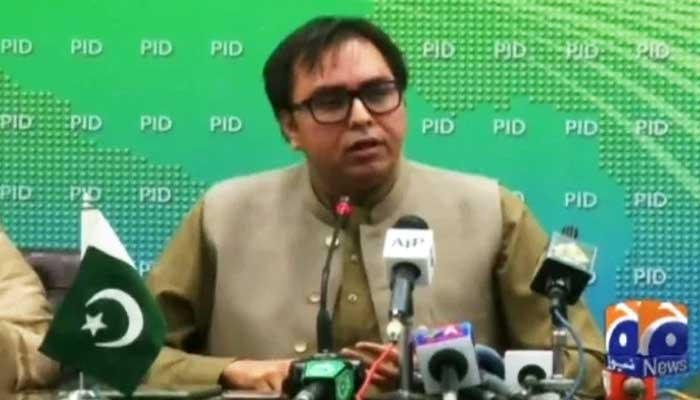 ISLAMABAD: Special Assistant to the Prime Minister for Political Communications Shahbaz Gul on Wednesday suggested to PML-N Vice President Maryam Nawaz to stick to politics instead of talking about magic. In response to comments that they "use magic" to work.
At a press conference in Islamabad, Gul told Farrukh Habib, Minister of State for Information and Broadcasting, that Maryam should also clarify what kind of " جنات She used to do money laundering abroad ", because she's talking about superstition these days. Geo News. Is informed.
"Now that Mary has started talking. [superstitions]Will she bother to tell us about the witches who worked day and night to build apartments for the Sharif family in London? Gul asked.
He wondered if Mary could tell "if there is one?" جنات Or sparrows that print dollar bills in the basement of their home.
Gul added that instead of issuing such statements, Maryam should limit her views to politics and submit receipts of her assets to the National Accountability Bureau.
Elaborating on Gul's remarks, Farrukh Habib said that Nawaz Sharif has been convicted by the court, so no one would want to be like him.
"Imran Khan has his own identity and he is a hero of Pakistan," Habib added, adding that the prime minister does not need to be like Nawaz.
He added that no matter how many "magic tricks" Maryam uses, she will have to be held accountable for her corruption.
Speaking to media outside the Islamabad High Court after the Avonfield reference hearing, Maryam said that Prime Minister Imran Khan was not a constitutionally elected Prime Minister, alleging that he resorted to magic to work.
He added that Prime Minister Khan should not "try to be like Nawaz Sharif" because he was "elected Prime Minister who came to power by popular vote" as opposed to the current ruler, often called "Leader of the Opposition". "
He said that if the Prime Minister had succeeded in using "magic", it should have been used to end the crisis of petrol, diesel and flour.
"If your magic is so successful, then why don't you use it for the good of the people?" He asked.