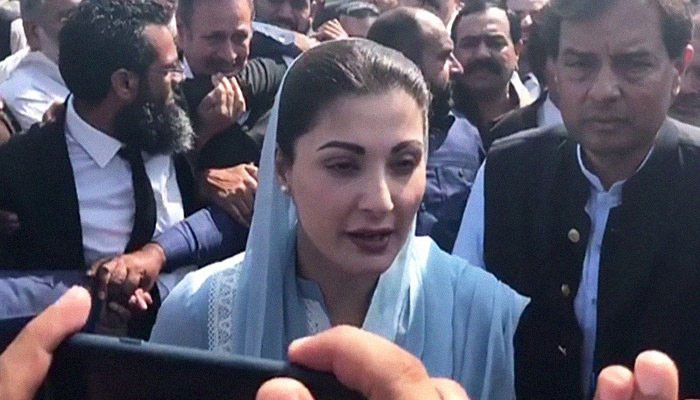 ISLAMABAD: Criticizing the PTI-led government, PML-N Vice President Maryam Nawaz on Wednesday said that Prime Minister Imran Khan would not be allowed to become a political martyr.
Addressing a media briefing after her appearance before the Islamabad High Court, Maryam Nawaz said that the Prime Minister "should not even try to be like Nawaz Sharif", which she termed as an elected Prime Minister who gets the votes of the people. Opposition groups called for the beleagured PM to resign.
"People who have entered into employment contracts must abide by their terms of employment," he added.
He asked what is the political identity of Imran Khan?
Imran's identity is to conspire against the elected Prime Minister
Replying to a question, he said that Imran Khan's identity was to conspire against the elected Prime Minister and to hold a 126-day sit-in. She was referring to the PTI's 2014 sit-in in Islamabad.
The PML-N leader further said that man does not become a lion just by hiding himself from the creatures.
Maryam said Prime Minister Imran Khan's identity was limited to "conspiracies" and had "nothing to do with the principles of law and democracy".
He said that the Prime Minister would have to answer for his conspiracies.
Elaborating on the so-called "conspiracies", he said that if the use of "magic" had achieved such success, it should have been used to alleviate the crises of petrol, diesel and flour.
"If your magic is so successful, why don't you use it for the good of the people?" He asked.
Maryam said there is no rule of law in the country at the moment.
He said that Imran Khan was not a constitutionally appointed leader, adding that he was in fact guilty of violating it.
The PML-N leader said his party's struggle was "against people like Imran Khan".
Maryam responded to the differences of rumors within the opposition Pakistan Democratic Movement Alliance. "There are no conflicts within the PDM," he insisted.
'Go ahead, arrest me'

She also spoke in the Avonfield Properties reference about the NAB's application to the IHC to cancel the bail of her husband, retired Captain Safdar Awan.
"I want to see who is my sympathizer in the NAB who has applied for revocation of bail," he said.
He added that the man should be saluted with 22 cannons, not 21 cannons.
Maryam said she feared she would not be arrested or caught in a "fake case".
He said that his father, former Prime Minister Nawaz Sharif, had already announced that he had left such matters to the will of Allah.
"Go ahead, cancel my bail, arrest me, so people can see how scared you are," he challenged the government.