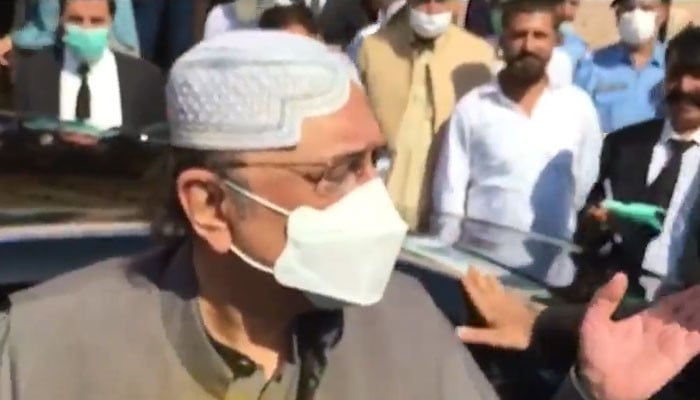 ISLAMABAD: Pakistan People's Party (PPP) co-chairman and former Pakistan President Asif Ali Zardari on Thursday claimed that his party would be the next government in the country.
Talking to media persons after appearing in the accountability court in Islamabad, Asif Ali Zardari said that the "next turn" would be for the PPP to form the government in the country.
Responding to a question, the PPP leader said that the accountability process would continue till the country's economy came down further.
Zardari cannot be indicted after the new NAB ordinance
Earlier, the former president appeared in the accountability court of Islamabad and sought acquittal in a Rs 8 billion suspicious transaction case.
During the proceedings, his lawyer Farooq Hamid Naik argued that Zardari could not be indicted after the new NAB ordinance.
"My client has not been charged with damaging the national exchequer in this case," the lawyer said.
The lawyer said that therefore the accountability court has no jurisdiction to hear the case.
Zardari's lawyer said that his client has been charged with a registered sale deed worth Rs 150 million and the amount was paid by bank check as per the case.
He said that the bank checks did not belong to Asif Ali Zardari.
First of all, let me know if this petition is admissible or not. The judge asked
The lawyer asked the court to issue a notice to the NAB and seek its response, saying it would then give its arguments.
The judge, meanwhile, reserved his decision on the admissibility of the petition and said he would announce his decision soon.