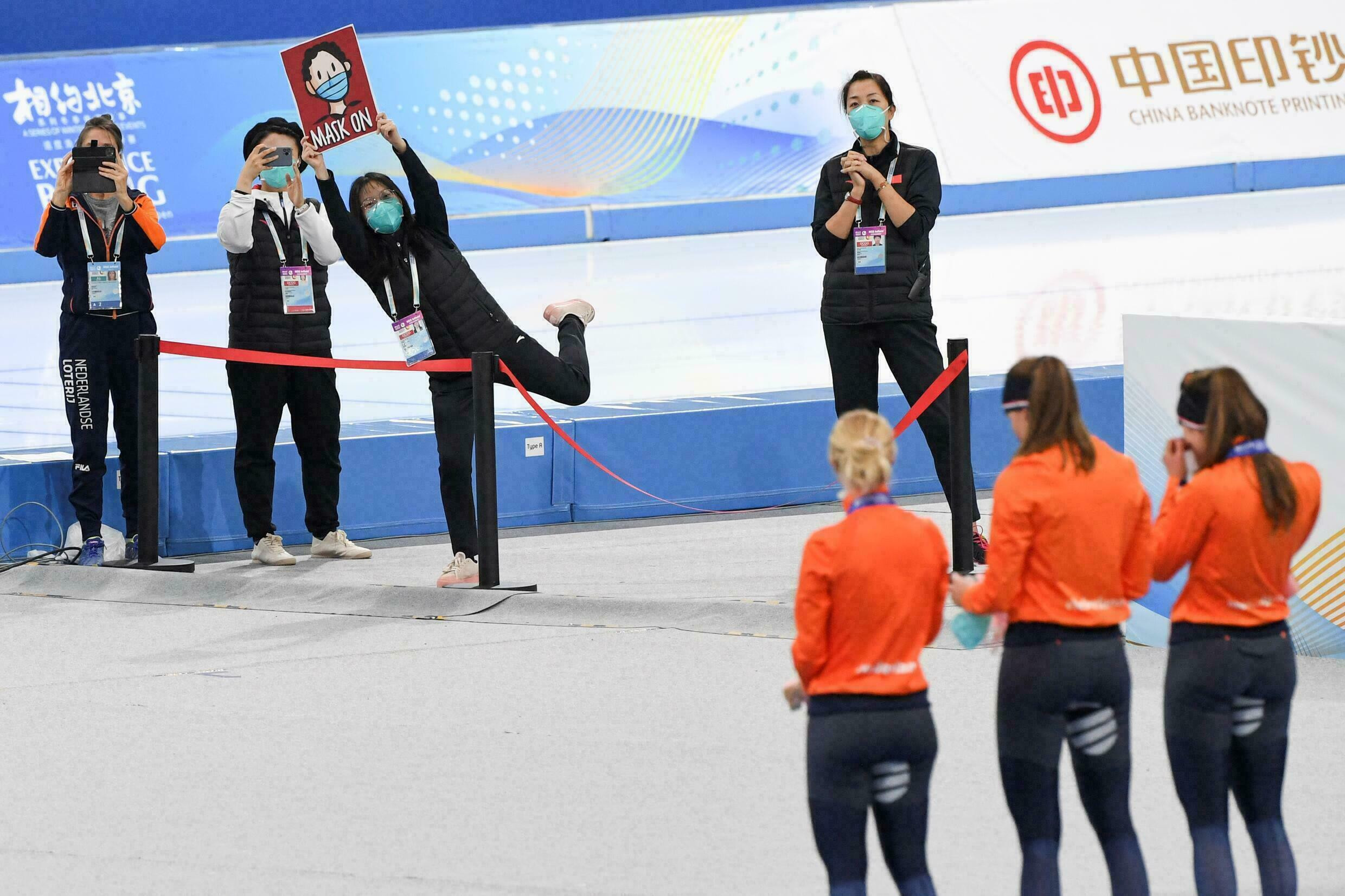 The large-scale sports program at the Beijing 2022 Games will include the safety rules of Cove 19 since the epidemic began.
Beijing:

Beijing, which will host the 2022 Winter Olympics, is hosting a series of test events – giving a strong taste of what the games will look like and what the corona virus measures will look like.
AFP Sport takes a look at which players and spectators – only those living in mainland China – are allowed to participate – when one can expect the real thing to happen on February 4-20 next year.
China plans to host the Games, which could include the strictest safety rules of the Kwid 19 at large-scale sporting events since the onset of the epidemic, even the most crowded summer Tokyo Olympics. in comparison with.
Chinese officials say participants will live in a "closed loop" – a tight bubble that connects them to spectators and the outside world for the entire game.
Upon arrival in the Chinese capital, athletes will have to undergo a full vaccination or 21-day quarantine. Athletes did not have to be vaccinated in Tokyo.
Everyone in the closed loop will have to take daily virus tests.
Like Tokyo, athletes will have to wear a lot of masks all the time, except when they are competing and for a quick photo on the podium if they win a medal.
China has largely sealed its borders since the virus appeared there by the end of 2019, but about 2,000 to 2,000 players, coaches and team officials abroad were expected to attend the test events.
State media reported that overseas participants landing in Beijing met with police in hazmat suits.
Ongoing test events, which are a great preparation for organizers, continue through the end of the year and include national and international competitions in everything from ice hockey to lodge and speed skating.
Athletes currently in Beijing appear to be resigning from the rules.
Sophie Kriegild, a speed skater from the Netherlands, told Chinese state media, "The epidemic prevention of this competition provides a lot of protection to the athletes."
According to Xinhua, Dutch speed skater and Youth Winter Olympics champion Isabel Gravelt said the measures "make me feel safe".
Chinese snowboarder Kai Zotong said there has been a major obstacle to the construction of sports – Chinese sports authorities have barred athletes from competing abroad due to the virus.
"We always travel to different countries and compete a lot, but last season, it was completely closed," Kai recently told AFP in Shanghai.
Unlike most empty stadiums in Tokyo, the Beijing Games will be crowded, although tickets will only be sold to people living in China.
The test events have not been crowded yet, but others, such as AFP reporters, have had to prove that they tested negative for the virus in the last 48 hours and showed their recent travel history.
Once inside, they had to wear N95 masks ایک a superior alternative to surgical masks اور and only interview players via video.
This is different from Tokyo, where reporters were able to interview players face to face, albeit at a distance. Such rules may change for the better in February.
Large landmarks in Beijing remind everyone to keep social distance, wash their hands and abstain from food.
Organizers say the measures will give Beijing a better chance of hosting a safe, smooth sport.
But he also acknowledges that he faces "tremendous pressure to control and control the epidemic."
Xiao Chengfang, deputy director of code-19 prevention at the Capitol Indoor Stadium, said if an athlete tested positive for the virus, they would be taken to designated medical centers in negative pressure ambulances for treatment.
Zhou added that a small army of about 100 emergency response personnel is ready to enter the stadium if needed.