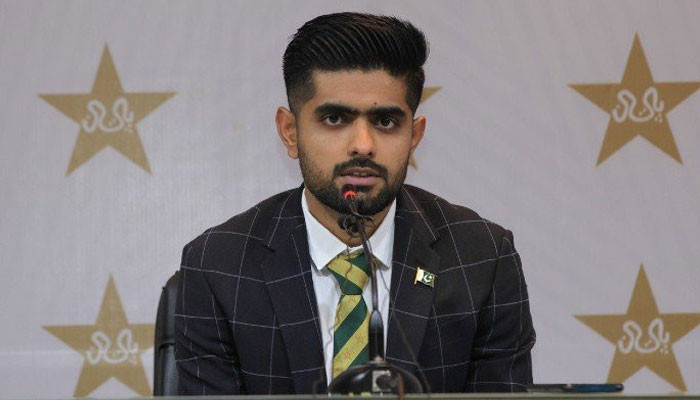 LAHORE: Defending the recent changes in the Pakistan squad for the ICC T20 World Cup, captain Babar Azam said that some players were not in "proper contact" during the National T20 Cup.
Addressing a virtual press conference, Babar Azam said that some players were not in proper contact during the domestic tournament.
He added that changes were made in the team as some players could not perform well.
Babar Azam welcomed the inclusion of left-arm batsmen Fakhr Zaman, all-rounder Shoaib Malik and Haider Ali. He said that the players have benefited from the experience of playing in the National T20 Cup.
"Shoaib Malik is an experienced player who is also counted among the fit members of our squad," he said. "However, we have to plan to include him in the playing XI squad."
"We also attended a training camp after the National T20 Cup," he said. "We benefited from the fact that all the players were grouped there."
It is a matter of pride to represent Pakistan
Babar Azam also talked about representing Pakistan for the first time as a captain in a major ICC event and said that it was a matter of pride for him to represent the country.
However, he said that captaining the team in the mega event is a challenging role for me.
Azam said he was happy to have the opportunity to do so.
He said that the team is focused on showing strong performance during the World Cup. "You gain confidence from impressive performances," he said. "I'm on the farm, it will benefit me," he added.
Azam said he was looking forward to the release of the tournament. He said that when Pakistan won the T20 World Cup in 2009, it was a moment of pride for him.
"We will do our best to regain this moment," he said.
Talking about the situation in the UAE, Babar Azam said that the team has played a lot of cricket here. However, he emphasized the importance of an impressive cricket team in all three areas of the game.