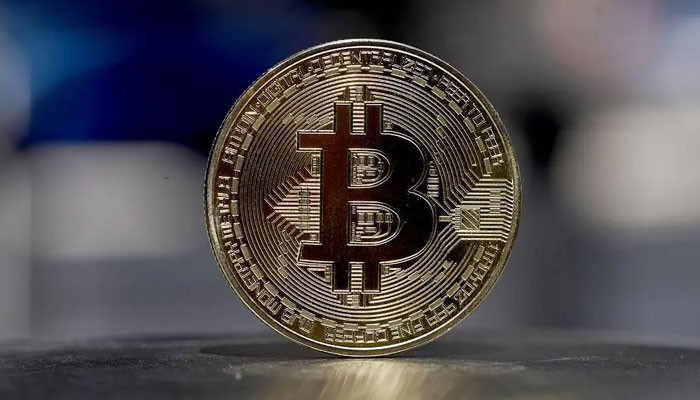 NEW YORK: The bitcoin has broken the $ 60,000 mark for the first time since April, amid growing hopes that US regulators will greenlight the first US futures exchange traded fund for a cryptocurrency.
According to Bloomberg News, the digital currency was up 40 percent from a month earlier, reaching ، 62,253 at 2050 GMT, prompting the US Securities and Exchange Commission to allow the ETF to trade next week. Can give
The SEC has rejected attempts to create a bitcoin ETF since 2013.
"The approval of the SEC bitcoin ETF is a watershed moment for the crypto industry as it could be a key driver for the next wave of corrupt investors," said Edward Moya, senior market analyst at Owanda.
An ETF is a financial instrument that can contain a variety of assets and can be traded on an exchange like any other securities. Future ETF means that the product will be bought or sold at a later date at a fixed price.
The SEC sparked speculation about the approval after posting the following advice on one of its Twitter accounts: And carefully consider the benefits. "
The ETF will add a significant year to the world's leading cryptocurrency, which peaked at 64 64,870 in April and became the legal tender in El Salvador, the first country to officially adopt it. Is.
China, meanwhile, has cracked down on corrupt trade and mining currencies, created by solving complex equations – an effort that uses a lot of energy.
– SEC U Turn –
Bloomberg, citing unnamed people familiar with the matter, reported that unlike previous bitcoin ETF applications that were previously rejected by the SEC, financial institutions ProShares and INVESCO The proposals are based on future agreements.
According to the news agency, the proposals were filed under mutual fund rules, about which SEC chairman Gary Jensler said "provide significant protection to investors".
"This is a significant development for the cryptocurrency space as it will allow many investors who were on the fence to enter the market in the traditional way," said Waleed Kodmani, an analyst at XTB Online Trading.
An ETF will reassure investors of "pre-existing risks such as a lack of regulations and the possibility of their wallets being hacked," Kodmani said.
There are ETFs that include bitcoins in other countries, but acquiring one in the United States would take cryptocurrency to another level.
"In the case of the United States, this is the largest, most important market. To date, these (traditional investors) have not had a simple vehicle to invest in bitcoin," he told AFP.
"The impact on the market can be huge. You'll see a short sale, but it won't make sense," Arith warned.
But, he added, "In the long run, this is a significant development.