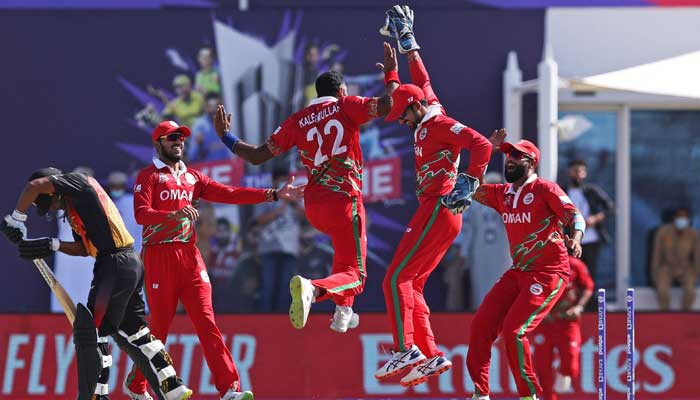 Muscat: Zeeshan Maqsood returned 4-20 bowling figures to lead hosts Oman to a 10-wicket victory in the opening match of the T20 World Cup on Sunday.
Maqsood's four wickets, including three in one over, put PNG at 129 for nine in the first round match at the Emirates Ground outside Muscat.
Openers Aqib Elias (50 off 43 balls) and Jatinder Singh (73 off 42 balls) then left the Oman home to save 6.2 overs without hitting the PNG bowlers around the ground, giving Papua New Guinea one in their first world. A cup of hard lessons
Singh reached his fifties – first for Omani Better in the World Cup – winning with his third six and fourth, at which point Elias joined the half-century club with him.
Maqsood remained a hero with his left-arm spin as he hit PNG three times in an over to shake, which did no harm to his two openers.
PNG captain Asad Wala, who hit 56 off 43 balls and Charles Amini 37, shared an 81-run third-wicket attacking partnership.
But Mohammad Nadeem threw the left-handed Amini straight to the non-striker's head to break the stand and opened the door for the goal.
"He was batting very well when I took the wickets," Maqsood said.
"I just try to keep it tight and not give loose balls. We knew the wicket was playing very well, we need to make sure we don't give loose balls and easy boundaries."
Maqsood replaced Norman Vanua, Sis Bau and Kaplan Doriga with five deliveries and later took another when Papua New Guinea broke down 102-3.
"It wasn't a good start with the bat, losing two wickets without a run," Villa said.
"But we competed very well to get a good position.
Bilal Khan and Kaleemullah, who go by just one name, took two wickets each.