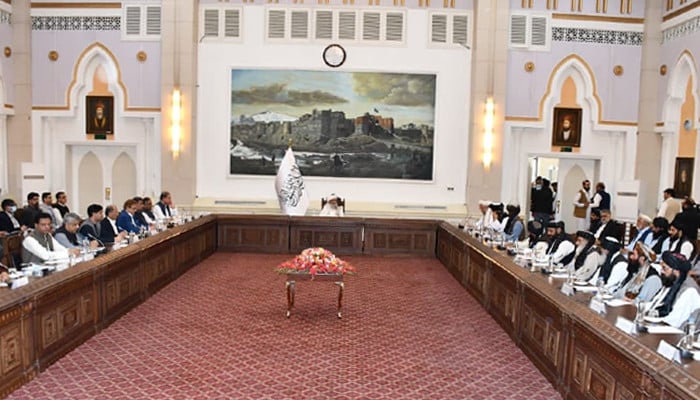 KABUL: On his first visit to Afghanistan since the Taliban took power in mid-August, Foreign Minister Shah Mehmood Qureshi on Thursday met with Afghanistan's caretaker Prime Minister Mullah Mohammad Hassan Akhund.
The caretaker Prime Minister received Shah Mehmood Qureshi at the ARG Presidential Office, where he met in the presence of the Afghan leadership, said Mansoor Ahmad Khan, Pakistan's Ambassador to Afghanistan.
The Ambassador said that the dialogue was focused on facilitating people-to-people contacts, trade, transit and communication between the two brotherly countries.
After Qatar and Uzbekistan, Qureshi is the third foreign minister to visit the country since the fall of Ashraf Ghani's government and the fall of the Taliban.
In an earlier statement, the Foreign Office said Shah Mehmood Qureshi was in Kabul on a one-day visit and was ready for important talks with the Afghan leadership.
During the meetings with senior Afghan officials, the Foreign Minister will share Pakistan's views on issues of regional peace and stability, the statement said.
The statement further said that Pakistan has always stood by Afghanistan and kept the border crossing points open for trade and pedestrians under the Kuwait Protocol.
He added that visa facilitation for Afghan citizens and border crossing procedures for trade and cargo have been established. In recent months, Pakistan has provided humanitarian aid and assistance in the form of food and medicine.
The statement said that the Foreign Minister's visit reflected Pakistan's consistent policy of supporting the brotherly Afghan people, deepening bilateral trade and economic ties and facilitating closer people-to-people contacts.
On Wednesday, the Russian government hosted a high-level Taliban delegation and officials from 10 countries, including China and Pakistan, to move the group forward against ISIS fighters, which it says it has. Afghanistan has long been destabilized.
In return, the Taliban – which is facing economic and humanitarian crises within its borders – urged the international community to recognize its interim government.
"Isolating Afghanistan is not in the interest of either side, and it has been proven in the past," Taliban Deputy Prime Minister Abdul Salam Hanafi told the Moscow conference.
That is why we call on the international community to recognize the current government of Afghanistan.