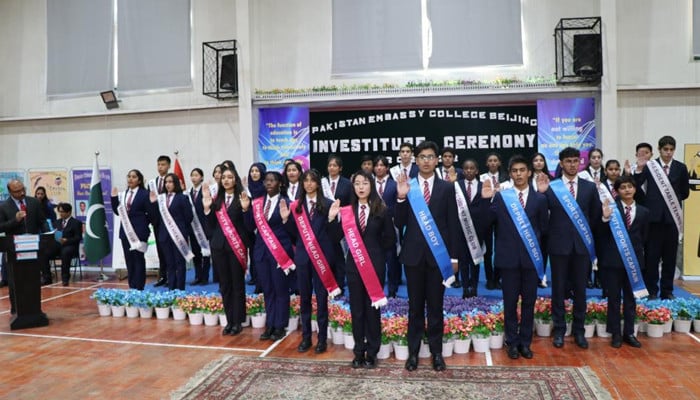 BEIJING: The Student Council of Pakistan Embassy College Beijing was sworn in for the academic session 2021-22 at a good investment ceremony held at the College Gymnasium here on Thursday.
Pakistan's Ambassador to China Moinul Haq attended as a special guest.
Principal Shazia Amjad, staff and students welcomed the guests. The ceremony began with the recitation of the Holy Quran. The national anthem was played.
Addressing the audience, Ambassador Haq said that PECB has played a key role in connecting people, building values ​​and imparting high quality education during the last 50 years.
As the first international school to be established in Beijing at the request of the Chinese leadership, it has not only catered to the needs and wants of Pakistani and Chinese students, but also students of more than 50 nationalities, especially children of foreign diplomats. Has provided a platform. The Chinese capital, "he added.
Acknowledging the role of the PECB in strengthening the friendship between Pakistan and China, he said that it has been at the forefront of promoting bilateral relations over the past five decades.
He said that this school has got many leaders from both Pakistan and China and various important events have been hosted this year as both the countries are celebrating the 70th anniversary of the establishment of their diplomatic relations.
Congratulating the students on being elected to the Student Council, Ambassador Haq said that extra-curricular activities are equally important for inculcating leadership qualities in the students.
He advised the students to take responsibility and work hard on their skills and abilities to prepare them to contribute to the development of the country.
Ambassador-ul-Haq appreciated the hard work and investment of the principal and teaching staff in making the event a success.
In her welcome address, Principal Shazia Amjad also congratulated the Student Council and said that their selection was a reflection of their ability and hard work as well as their desire to play an important role in the betterment of PECB.
He also welcomed and congratulated the parents of the students who have been elected to the Student Council.
Student council members are elected by voting each year. A level I student Muhammad Rao was selected as the head boy while A level II student Saskia Shi was selected as the head girl for the current academic session.
Alexander, A Level-2 student and Cindy Evom, A Level-1 student were selected as Sports Captain Boys and Sports Captain Girls respectively.
A level I student Omar Jun, A Lelvel-I student Haniya Ansari was selected as Deputy Head Boy and Deputy Head Girl while IG II student Muhammad Ibrahim and IG II student Mahrukh Asif were selected. Deputy Sports Captain for Boys and Girls.
Presidents and Vice Presidents of various clubs include Islam Bek and Haniya Qasim (Basketball Club), Zonira Ali and Mora Wang (Board Games Club), Miskan Israr Khan and Hareem Bint Nadeem (Community Service Club), Sabih Ansari and Ali Sher Awan ( Football (Club) Ayman Fatima and Ayesha Fatima (Health Club), Mohsin Fawad Chaudhry and Muhammad Hani (History Club), Sara Faisal and Malaika Asghar (Life Skills Club), Ruqiya Tahira and Dilaram Shamozadi (Performing Arts Club), Aswa Arshad and Iman Asghar (Science Club), Mustafa Shabab and Syeda Qissa Zahra (Badminton Club), Alexandra Limos and Satoti Parajuli (Music Club), Amna Khan and Mahim Noor (Art Club) and Karam Mehboob and Thomas Ma (Table Tennis Club). ۔
Vice Principal Maqsood Sadiq took oath from the newly elected council.
Ambassador Moinul Haq, Deputy Head of Mission Ahmed Farooq and Defense Attach بری Brigadier Shahid Amir presented sush to the members of the Student Council.
The event was attended by senior diplomats, officials, parents, teachers and students.