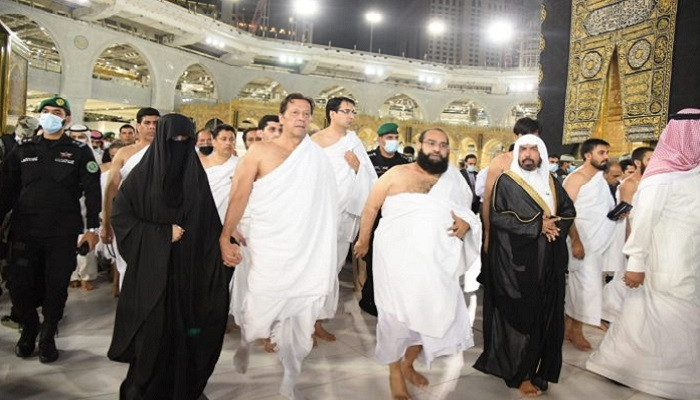 Makkah: Prime Minister Imran Khan performed Umrah with a delegation on the first day of his three-day visit to Saudi Arabia.
The Prime Minister prayed for peace and prosperity of Pakistan along with the Muslim community.
Earlier, shortly after reaching Madinah in the evening, he left for the Prophet's Mosque, visited the Holy Shrine of the Prophet (peace be upon him), paid Nawafil and prayed for the development and prosperity of the country.
On arrival in Jeddah, the Prime Minister was received by the Deputy Governor of Makkah, Prince Badr bin Sultan Al Saud, while in Madinah, he was received by the Deputy Governor of the Madinah Region, Prince Saud bin Khalid Al Faisal.
The Prime Minister arrived in Saudi Arabia on a three-day visit to attend the launch of the Middle East Green Initiative (MGI) Summit in Riyadh.
He is visiting the kingdom at the invitation of Crown Prince Muhammad bin Salman bin Abdul Aziz. Apart from attending the summit, he will also attend the Pakistan-Saudi Investment Forum and meet with the Saudi leadership.
He is also expected to meet with members of the Pakistani community in Saudi Arabia.
Prime Minister Imran Khan was accompanied by Foreign Minister Shah Mehmood Qureshi, Energy Minister Hamad Azhar and Special Assistant for Environment Malik Amin Aslam.