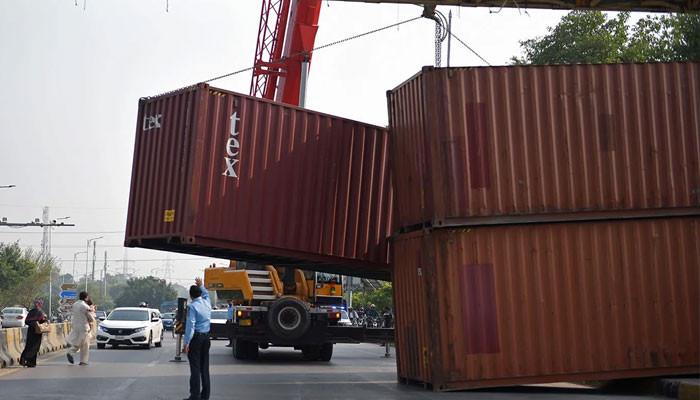 ISLAMABAD: As part of precautionary measures against the expected long march of the banned Tehreek-e-Libek (TLP) towards the federal capital, the district administrations of Rawalpindi and Islamabad sealed off all major roads connecting the two cities before Wednesday morning. Has given
Authorities sealed off both sides of Murree Road with containers from Faizabad Interchange to Merid Chowk to prevent the banned outfit from marching towards Islamabad. The road between Faizabad and Chandni Chowk has also been sealed.
To avoid any untoward situation, a heavy contingent of police has been deployed between 6 roads leading to Faizabad.
Meanwhile, the city administration has suspended metro bus service in Rawalpindi indefinitely. However, the bus service will continue to facilitate transportation from IJ Principal Road to the Islamabad Secretariat, the administration said.
Roadblocks in the Twin Cities are causing serious problems for patients, students and travelers.
Intense pressure on Pakistan over expulsion of French ambassador '
A day earlier, Interior Minister Sheikh Rashid Ahmed had said that the government agreed with all the demands of the banned TLP except for the closure of the French embassy.
Briefing the media about the progress of talks with the banned organization, Rashid said that in the case of the French ambassador, we have various obstacles in front of us.
The minister had said that "there is a lot of pressure on Pakistan" regarding the TLP's demand for a French ambassador.
"If we send packaging to the French ambassador, Pakistan may face various problems," he said.
"We want them to reconsider their demand for a French embassy," he said.