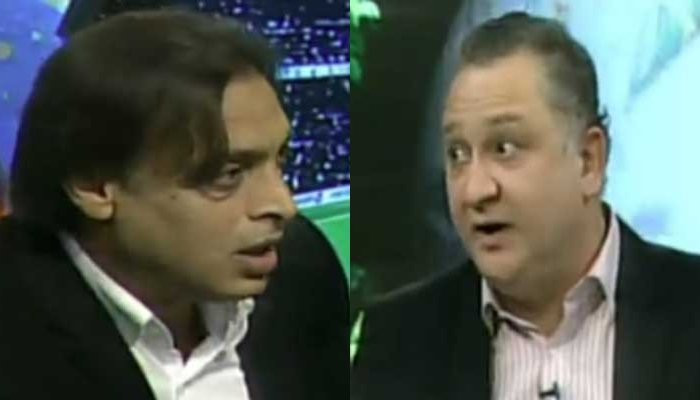 After the feud between former fast bowler Shoaib Akhtar and PTV Sports Dr. Noman Niaz, anchor person of Pakistan Television Network, has decided to remove Dr. Niaz from the show.
Sources said that the decision to take Dr Noman off air was taken by the state broadcaster on the recommendation of an inquiry committee specially constituted to probe the matter.
Sources said that the recommendation was made during a meeting of the inquiry committee which was attended by the managing director of the state broadcaster and other senior officials.
Sources said that during the meeting, the unfortunate incident between legend bowler Shoaib Akhtar and Niaz was discussed in detail and the report prepared in this regard was also reviewed.
The inquiry committee said that it had interviewed both Akhtar and Niaz regarding the dispute, after which it had sent a recommendation to remove Niaz.
It may be recalled that Akhtar and Niaz had an altercation on Tuesday during PTV's sports show 'Game On Hai'.
The two were talking about Pakistan's victory over New Zealand when tensions escalated between the show's host Niaz and one of the show's many decorating panelists, Shoaib Akhtar.
As Shoaib Akhtar was going through some small things in cricket – during which he credited the Pakistan Super League's Lahore Qalandars team for finding Shaheen Shah Afridi and Haris Rauf – Niaz got angry and returned to Shoaib. ۔
"You're a little rude and I don't want to say this: but if you are smarter you can go. I am saying this on air," Niaz said briefly to Shoaib. Going to the next guest for their comments.
It was not clear what rubbed Niaz in the wrong way, and it seemed that Shoaib himself had become vigilant.
As tensions escalated, the show closed for a commercial break. After its resumption, the debate once again revolved around cricket but Shoaib Akhtar seemed upset.
Moments later, he turned on his mic and walked out of the show, announcing his resignation during a live transmission.
"I'm so sorry friends, I'm so sorry. I'm resigning from PTV. The way I was treated on national TV, I don't think I should sit here right now, so I'm resigning. Thank you very much." Too much, "he said, and left.