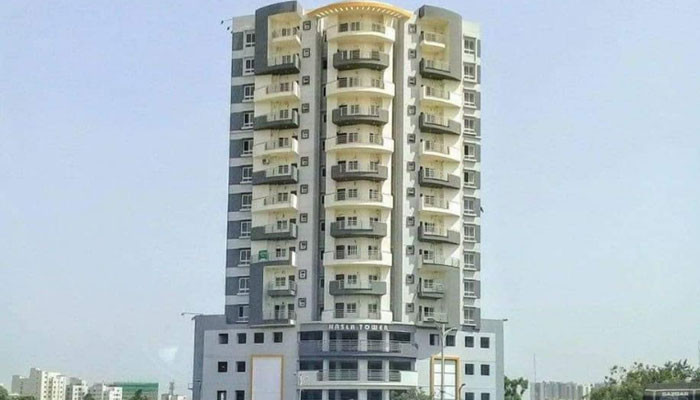 KARACHI: The Supreme Court (SC) on Thursday issued a detailed judgment in a case related to construction of a 15-storey race tower on land constructed for service road on Shara Faisal area of ​​Karachi.
Earlier on October 25, the Supreme Court had directed the Karachi authorities to demolish the Nasla Tower within a week through a controlled explosion.
In its detailed judgment, the apex court directed to use modern technology to demolish the high-rise building on Faisal Highway through controlled blasting and to charge the owner.
The Supreme Court directed that a modern blast method be adopted to demolish the Nasla Tower used in India and all over the world.
The Supreme Court ordered that all precautionary measures be taken so that there would be no damage during the demolition of the building. The court directed to complete the proceedings by November 3.
According to the order of the Supreme Court, the cost of demolition will be paid by the owner of Nasla Tower. The court ordered the commissioner Karachi to sell the plot and said that if he did not pay, he should receive the money.
The Supreme Court ordered the concerned authorities to immediately remove the rubble of the building after it collapsed.
'Generation tower will be demolished in a week'
Earlier, the Supreme Court had ordered the demolition of the Nasla Tower through a controlled explosion within a week.
Chief Justice Gulzar Ahmed heard a case related to illegal construction of a residential complex on Shahra-e-Faisal on Service Road.
The court also directed the concerned authorities to submit a compliance report within a week.
The bench said the tower should be demolished with a controlled blast and no damage should be done to the surrounding buildings or people.
During the hearing, the Chief Justice directed the owner of Nasla Tower to pay compensation to the occupants and directed the Commissioner Karachi to ensure payment to the victims.
In June, the Supreme Court ordered the demolition of the tower over its illegal construction on Service Road, and asked builders to return the money to registered buyers of residential and commercial units within three months.