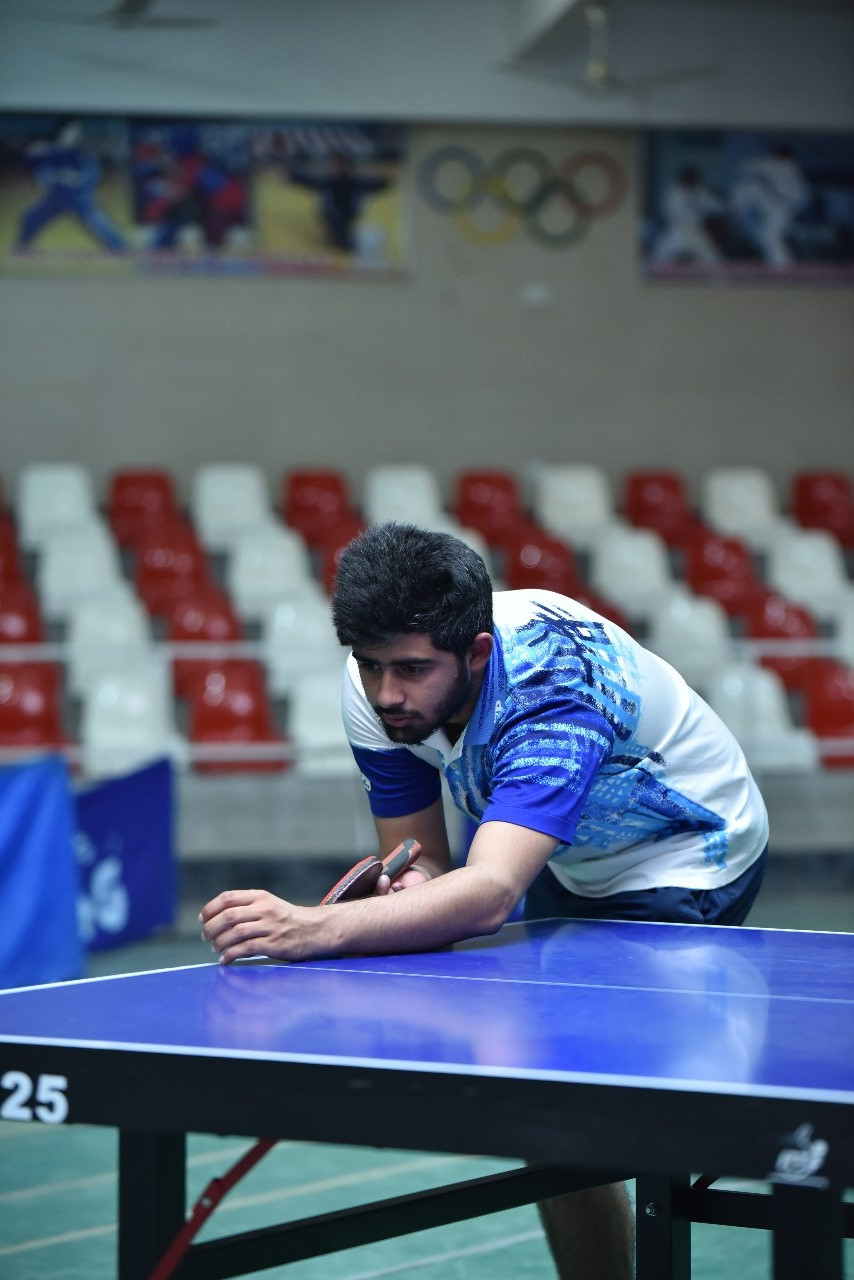 Karachi:

Former national champion Omar Shehzad says, "There is a lot of awareness now. In fact, many of the top players representing Pakistan in table tennis are from Khyber Pakhtunkhwa (KP)." Now build 1,000 sports facilities, even if he is not playing at a high level.
The 23-year-old has been impressive and admitted that he wants to see himself representing Pakistan at the international level one day but he may have to wait for that day so he cannot give up his studies.
The 2015 junior gold medalist and subsequent silver medalist thinks he had to make that decision after reaching the domestic level among the juniors.
The key decision that shaped the next few years of his life was to continue playing table tennis full time or to keep his heart and mind open to other possibilities through academics.
Shehzad's decision, which he would eventually take, was deeply affected by the facilities and coaching available to table tennis players in the country and especially in KP, who were not close to anyone at the time.
Shehzad believes that his choice of education, which made him a civil engineer, was more meaningful to him at the time.
"I still try to train for two hours every day. I want to represent Pakistan at the international level," Shehzad said. Express Tribune After his days on the field, he spent time on facilities that are part of the Directorate General of Sports KP's efforts to complete 217 projects in the next few months. This is the first phase of the 1,000-game facility project, of which 116 have been completed.
"I had to back down from playing table tennis at the time because I felt we didn't have the coaches and facilities in Pakistan to help us connect with the world."
"My friends, including the top players for Pakistan now, we all used to train here in Peshawar. Now three of the five players representing Pakistan in the Asian Championships are from KP and that is a change. In the province. I am very fond of sports but now a lot of players are coming from KP. In fact, we also have private academies, especially in Swat which will help in producing quality players.
Shehzad cited KP's Muhammad Rameez, Shah Khan and Fahad Khawaja as exemplary talents with whom they played and are now proud of the country. However, the question is whether choosing sports over other professions is a good choice, given that the Pakistan Table Tennis Federation has limited resources to send players abroad. Also, regular sponsorship is mandatory for professional athletes to participate in international competitions.
"My friends chose table tennis and now their hard work is paying off, but the biggest problem for athletes in Pakistan is sponsorship. Then there are the departmental jobs that top athletes get, but it's their It is not enough for them to participate in individual international competitions throughout the year.There is always a dead end that players cannot get sponsorship if they come to the department but if they are in the department they get jobs. "Meanwhile, young players in KP get assistance from government funds and if they are junior players, they get a stipend," Shehzad explained.
Shehzad is now a smart young man, who has come a long way. He has a silver and bronze medal at the Senior National Championships, two gold medals at the National Junior Championships and a silver medal with gold at the Inter-Broad Championships, while he has two gold medals at the KP U23 Games and More gold medals at KP Inter University and two more gold medals at intercollegiate events.
Despite the lack of facilities in KP or coaching, the young man's love of table tennis began in 2010 when he first saw top athletes take part in the National Games at the Qayyum Stadium in Peshawar.
"I watched the game, I fell in love with table tennis and it wasn't long before I started playing it. I was playing well until 2011 and I started competing in events, "Shehzad said. However, at this stage most KP players have learned the technique by themselves, watching online videos and tutorials. Are learning
We need national level coaches, coaches from abroad who can train players. We still look for online resources to improve our technique due to the lack of coaches, "said Shehzad.
Shehzad said that these are the equipments and facilities that count and most of the players have to struggle to get standard gear.
He added that when he saw his teammates struggling, his goal was to make a name for himself in the sport. Although he is trying to improve his skills in table tennis, he is hopeful that his services with the KP government's project will bring some relief to young players.
The latest achievement for Shehzad and his colleague Paras Ahmed, a fellow engineer who graduated with a degree in Peshawar last year, is the unveiling of a 52-foot climbing wall that will build 1,000 sports facilities in the province. Second in KP as part. .
Shehzad is happy to join the board as a consultant with his engineering degree, but also as a sports person, which he feels could benefit the province and the government as well as the sports people.
"I'm happy to be a part of it. First I did an internship with the Directorate and then we started working on a project with them. The most important insight I know I can bring is that of a player. "While we are looking at these facilities, we can say that if the lighting is good, if the halls are suitable for the players in terms of structure and facilities, then all of them make a big difference," Shehzad concluded. ۔