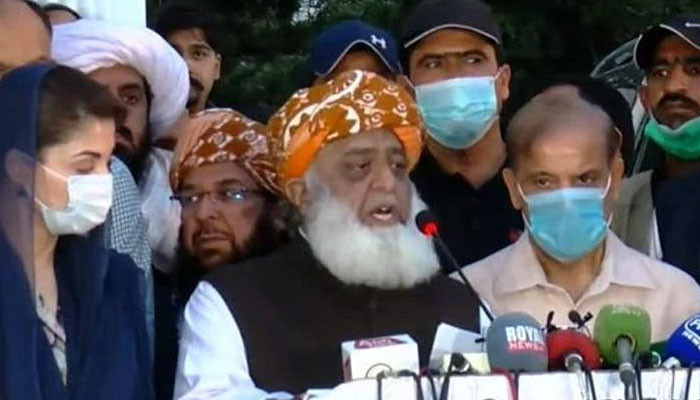 DERA GHAZI KHAN: The Pakistan Democratic Movement (PDM) – an alliance of major opposition parties – is all set to stage a protest rally in Dera Ghazi Khan today (Sunday) against rising inflation in the country.
PDM chief Maulana Fazlur Rehman, PML-N president Shahbaz Sharif and other opposition leaders will address the protest rally.
Senior PML-N leader Rana Sanaullah has said that the government has failed and it has made life difficult for the poor and middle class. "Inflation is likely to rise further in the coming days," he said.
Earlier, on October 22, the opposition coalition launched a protest against the recent rise in prices in the country. Protest rallies were held in Lahore, Karachi, Peshawar and other major cities.
'PDM rally will be a referendum against the government'
Ahead of the anti-government coalition's DG Khan rally, PML-N spokesperson Maryam Aurangzeb said it would be a "public referendum against the tyrannical government".
In his statement, Aurangzeb said that the Pakistani people have understood that "getting rid of Imran." Sir There is only one way out of inflation.
Preparations for the opposition alliance's DG Khan rally have been completed, he said, confirming that the rally would focus on "historic" inflation, unemployment and economic catastrophe in Pakistan.
The PML-N spokesman confirmed that opposition leader Shahbaz Sharif and other PDM leaders would address the meeting.